Group files corruption lawsuit against Ma over Fubon
A group of lawyers yesterday filed a corruption lawsuit against former president Ma Ying-jeou (馬英九), saying that he helped Fubon Bank (富邦銀行) generate more than NT$30 billion (US$947.3 million) in illegal profits.
The group requested that the Taipei District Prosecutors' Office detain Ma immediately pending an investigation.
Ma abused his political power to interfere with the judicial system, citing numerous cases in which prosecutors dropped corruption, influence peddling and financial irregularity cases against Ma, they said.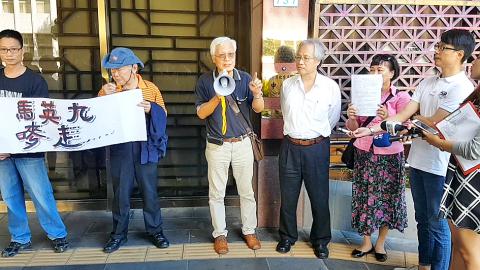 Former Taipei Bank branch deputy manager Huang Yu-yen, center, speaks outside the Taipei District Prosecutors' Office yesterday as lawyers file a lawsuit against former president Ma Ying-jeou on corruption charges.
Photo: Hsieh Chun-lin, Taipei Times
Lawyer Billy Chen (陳達成) said a significant number of questions remain unanswered regarding Ma's role in Fubon Bank's takeover of Taipei Bank (台北銀行) — resulting in the formation of Taipei Fubon Commercial Bank (台北富邦銀行) — in 2002, when Ma was mayor of Taipei.
There were several incongruous aspects of the deal, in which smaller Fubon Bank was allowed to take over larger government-owned Taipei Bank through the conversion of shares, resulting in an estimated loss of NT$2.3 billion for the Taipei City Government and Taipei Bank shareholders, said Chen, who heads the Taipei-based Chaining Law Office (千齡法律事務所).
It later emerged that Fubon Bank wanted to develop land occupied by Taipei Bank's headquarters, the value of which, when later rezoned as commercial land, increased from NT$200 million to NT$7 billion, Chen said.
It is estimated that Ma helped Fubon Bank make more than NT$30 billion in undue financial profit through its acquisition of bank branches and plots of land owned by Taipei Bank, as well as other assets and derived benefits, said Huang Yu-yen (黃玉炎), a former deputy manager of a Taipei Bank branch.
The media dubbed the case "Ma's shark fin soup banquet" after it was revealed during merger negotiations that Ma had attended several private dinners hosted by Fubon Bank's owners, Daniel Tsai (蔡明忠) and his brothers, at an upscale Taipei restaurant that specialized in shark fin soup and other expensive dishes.
Huang said the agreement was illegal, because it was signed by Fubon Bank and then-Taipei Department of Finance commissioner Lee Sush-der (李述德), who was not an authorized legal representative for Taipei Bank.
"Ma and Lee chose to finalize the deal in August 2012, when the Taipei City Council was in recess, thereby circumventing scrutiny and opposition from the city councilors," Huang said.
"The city government and bank executives also fired a number of Taipei Bank employees who had voiced opposition to the deal, thus forcing others to remain silent for fear of losing their jobs," he added.
Huang, Chen and Huang Yueh-hung (黃越宏), publisher of an influential law news bulletin, presented new evidence and documents when filing the lawsuit, saying that Ma and Lee had contravened provisions of the Anti-Corruption Act (貪污治罪條例) and demanding that prosecutors investigate the case and detain both men immediately.
Huang also accused Tsai Pi-yu (蔡碧玉) of destroying documents related to judicial cases against Ma and dropping most of the cases during her time as head of the Taipei District Prosecutors' office.
"Ma had promoted Tsai numerous times, so she returned the favor by blocking cases and refusing to prosecute him," Huang said.
Comments will be moderated. Keep comments relevant to the article. Remarks containing abusive and obscene language, personal attacks of any kind or promotion will be removed and the user banned. Final decision will be at the discretion of the Taipei Times.