Cambodia embraces Chinese President Xi on state visit
RELIABLE FRIEND: China has forgiven Cambodia US$89m debt and given more in aid and loans, with no strings attached, according to its president
Chinese President Xi Jinping (習近平) on Thursday promised Cambodia hundreds of millions of US dollars in aid and loans during a state visit to the nation, which is one Beijing's staunchest regional allies.
Hundreds of students waving Cambodian and Chinese flags greeted Xi alongside officials at the airport before his motorcade sped into town for an audience with the royal family and later Cambodian Prime Minister Hun Sen.
Cambodia has long been a strident supporter of Beijing's communist rulers, who have lavished the poor nation with cash.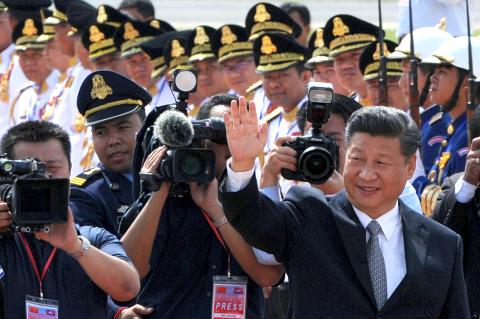 Chinese President Xi Jinping waves to Cambodian students and officials before departing from Phnom Penh international airport yesterday.
Photo: AFP
On Thursday the two leaders signed 31 agreements that saw China give Cambodia US$178 million in aid for economic cooperation, a US$59 million loan, plus an additional US$15 million in military aid.
Xi also forgave a US$89 million debt, the leaders said in a joint announcement after a signing ceremony.
China is Cambodia's top foreign investor and has given the nation billions of US dollars in grants and low-interest loans during Hun Sen's 31-year rule.
In July it offered Cambodia nearly US$550 million in aid, days after the kingdom was accused of undermining regional unity by backing Beijing in disputes over the South China Sea.
In recent years Cambodia has become a thorn in the side for neighboring nations hoping to present a unified front against China's island-building in the contested waters.
Several Southeast Asian nations, including Taiwan, have competing claims to parts of the sea and many in the region want to keep pressure on China over its efforts to militarize the sea.
However, Cambodia's unwavering support of China has scuppered regional efforts to jointly rebuke Beijing.
Ahead of Xi's trip, a Cambodian newspaper published an article signed by Xi that praised the Southeast Asian nation for coming to its defense over the sea row.
"When China acted to safeguard its territorial sovereignty and maritime interests and was devoted to resolving related disputes through peaceful negotiation, Cambodia did not hesitate to speak out to uphold justice," the Chinese president wrote in the article published by Cambodia's Rasmei Kampuchea newspaper.
He also described the two nations' friendship as "beaming with new vitality" and enjoying "deep political trust and win-win economic cooperation."
Large portraits of Xi and Cambodian King Norodom Sihamoni were erected along the streets of Phnom Penh ahead of the two-day visit.
Hun Sen regularly praises Beijing's "no-strings-attached" aid, compared with help from the US and EU, which is often accompanied by calls to address corruption and human rights abuses in Cambodia.
"For Cambodia, China is the most important strategic and economic partner," Cambodian Institute for Strategic Studies chair Vannarith Chheang said, adding that Cambodia, in turn, is China's "most reliable friend in Southeast Asia."
Comments will be moderated. Keep comments relevant to the article. Remarks containing abusive and obscene language, personal attacks of any kind or promotion will be removed and the user banned. Final decision will be at the discretion of the Taipei Times.