Thais plunged into mourning as king dies at 88
LONG REIGN: King Bhumibol Adulyadej died shortly before 4pm. Crown Prince Maha Vajiralongkorn was named successor and a year of mourning declared
Thailand's King Bhumibol Adulyadej, the world's longest-reigning monarch, has died at the age of 88, the palace announced yesterday, leaving a divided nation bereft of a rare figure of unity.
Bhumibol's death ends a remarkable seven-decade reign and plunges Thailand into a deeply uncertain future.
Most Thais have known no other monarch and he has been portrayed as a guiding light through decades of political turmoil, coups and violent unrest.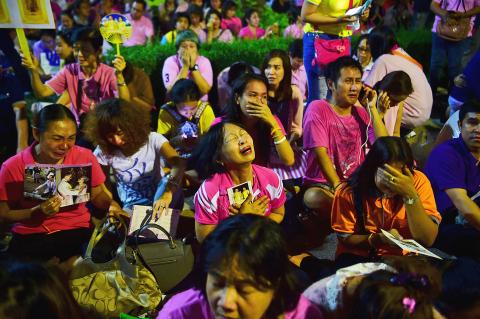 Thais gathered outside Siriraj Hospital in Bangkok yesterday react to the announcement of the death of King Bhumibol Adulyadej.
Photo: AFP
In a statement the palace said the monarch passed away at 3:52pm.
As the news filtered out, large crowds erupted in mourning outside the hospital where Bhumibol spent most of the last two years, many of them wailing and sobbing.
"How will Thailand live without you father?" one distressed young man cried as others chanted "Long Live the King."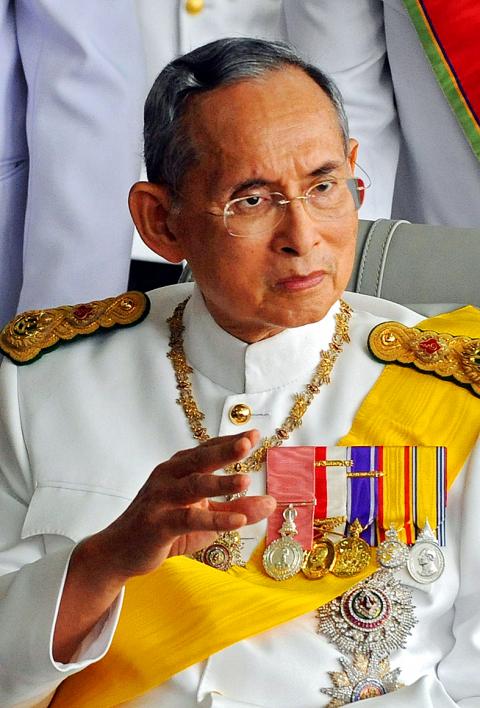 Thai King Bhumibol Adulyadej waves to a crowd of well-wishers as he leaves the Siriraj Hospital in Bangkok on Dec. 5, 2009.
Photo: AFP
Thai Prime Minister Prayuth Chan-ocha, the former army chief who leads the ruling junta, described the king's passing as "the most devastating moment for Thais" since the death of his predecessor and older brother, 20-year-old king Ananda, in 1946.
He moved quickly to declare that the king's 64-year-old son, Crown Prince Maha Vajiralongkorn, was the "named successor."
In a televised address to the nation, Prayuth said Thailand would hold a one-year mourning period and that all entertainment functions must be "toned down" for a month.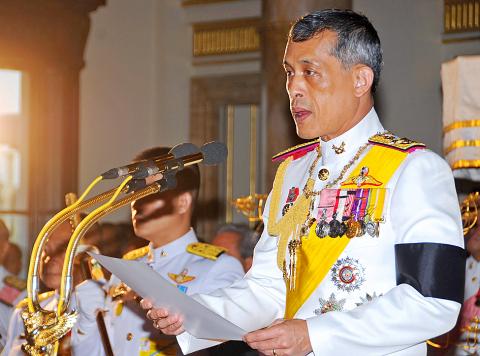 Crown Prince Maha Vajiralongkorn reads a statement during the opening ceremony of the new parliament at Ananta Samakhom Throne Hall in Bangkok on Aug. 1, 2011, in a handout photograph from Thailand's Royal Bureau.
Photo: AFP / Royal Bureau
Thai television stations switched to a special announcement that began with black and white photographs of the king, before a formally dressed presenter read out the palace statement.
The Massachusetts-born Bhumibol's death is a major test for the kingdom's generals, who seized power in 2014 vowing to restore stability after a decade of political chaos, a turbulent period exacerbated by the king's declining health.
It is difficult to overestimate Bhumibol's importance to most of his subjects. Backed by an intense palace-driven personality cult, he is revered as a demigod by many, seen as rising above the kingdom's notoriously fractious political scene.
Officially known as King Rama IX, he descended from the Chakri dynasty which came to power in Thailand in the late 18th century.
His reign spanned a remarkable era in which Thailand transformed itself from an impoverished, rural nation into one of the region's most successful economies, dodging the civil wars and communist takeovers of its neighbors.
He built a reputation for criss-crossing the nation to visit the rural poor and sometimes intervened to quell key moments of political violence — although other times he stayed silent and he approved most of the coups during his reign.
In the early years of his reign, he was also known as an accomplished jazz musician and composer, who played several instruments, including the clarinet and saxophone. He also used to sail and design sailboats, and won a gold medal for sailing in the Fourth Southeast Asian Peninsular Games in 1967, together with one of his daughters.
Additional reporting by staff writer
Comments will be moderated. Keep comments relevant to the article. Remarks containing abusive and obscene language, personal attacks of any kind or promotion will be removed and the user banned. Final decision will be at the discretion of the Taipei Times.