Hurricane kills almost 900 in Haiti before striking US
Hurricane Matthew killed almost 900 people and displaced tens of thousands in Haiti before it plowed northward off the southeast US coast, where it caused major flooding and widespread power outages yesterday.
The number of deaths in Haiti, the poorest country in the Americas, jumped to at least 877 on Friday as information trickled in from remote areas previously cut off by the storm, according to a Reuters tally of death tolls given by officials.
Matthew rampaged through Haiti's western peninsula on Tuesday with 233kph winds and torrential rain. About 61,500 people were in shelters, officials said, after the storm hurled the sea into fragile coastal villages, some of which were only now being contacted.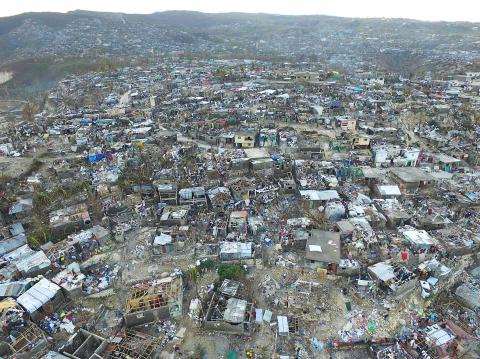 An aerial photograph shows homes destroyed and damaged by Hurricane Matthew in Jeremie, Haiti, on Friday.
Photo: AFP
At least three towns in the hills and coast of Haiti's fertile western tip reported dozens of people killed, including the farming village of Chantal, where the mayor said 86 people died, mostly when trees crushed houses.
He said 20 others were missing.
"A tree fell on the house and flattened it. The entire house fell on us. I could not get out," said 27-year-old driver Jean-Pierre Jean-Donald.
"People came to lift the rubble, and then we saw my wife who had died in the same spot," said Jean-Donald, who had been married for only a year.
His young daughter stood by his side, crying "Mommy."
With cellphone networks down and roads flooded, aid has been slow to reach hard-hit areas in Haiti. Food was scarce and at least seven people died of cholera, likely because of flood water mixing with sewage.
The Mesa Verde, a US Navy amphibious transport dock ship, was en route to Haiti to support relief efforts. The ship has heavy-lift helicopters, bulldozers, fresh-water delivery vehicles and two surgical operating rooms.
At 5am EDT, Matthew's eye was about 30km south-southeast of Hilton Head, South Carolina. It was moving northward at 19kph, packing 165kph winds, the US National Hurricane Center (NHC) said.
Wind gusts of 130kph in Hilton Head were reported by the agency and it predicted the storm could possibly strike the coast.
"Regardless of whether or not the center makes landfall, hurricane-force winds in the northern eyewall will lash much of the coast of South Carolina," an NHC advisory said.
Matthew sideswiped Florida's coast with winds of up to 195kph, but did not make landfall there, after being downgraded to a Category 2 storm.
There were at least four storm-related deaths in Florida, but no immediate reports of significant damage in cities and towns where Matthew swamped streets, toppled trees and knocked out power to more than 1 million households and businesses.
About 300,000 households and businesses were without power in Georgia and South Carolina yesterday, according to utility companies.
Two people in Florida were killed by falling trees and an elderly couple died of carbon monoxide poisoning from a generator while sheltering from the storm inside a garage.
Hurricane and flash flood warnings extended through Georgia and South Carolina and into North Carolina early yesterday.
Forecasters warned of flooding as 400mm of rain was expected to fall in parts of the region along with storm surges and high tides.
Comments will be moderated. Keep comments relevant to the article. Remarks containing abusive and obscene language, personal attacks of any kind or promotion will be removed and the user banned. Final decision will be at the discretion of the Taipei Times.