Township mayor gets life in jail for murder plot
Suspended Jhuci Township (竹崎) Mayor Wang Kun-hung (王焜弘) was on Friday found guilty of murder and sentenced to life imprisonment for his involvement in the fatal shooting of a Chiayi City police officer in January.
Chiayi District Court Judge Cho Chun-hui (卓春慧) also found Liu Jui-tang (劉瑞堂), the hired gunman who carried out the assassination on police officer Lin Chin-chung (林進忠), guilty of murder and sentenced him to life in prison.
Huang Chun-yuan (黃俊源), Wang's cousin, was sentenced to 15 years and six months in prison for being an accessory to the crime and concealing the offense.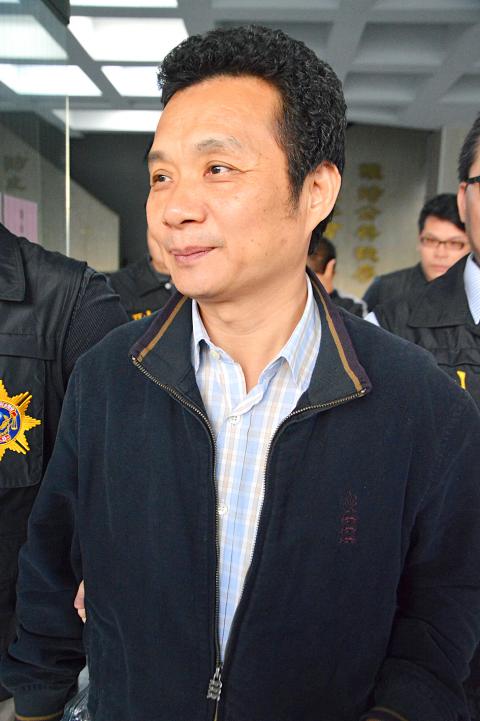 Suspended Jhuci Township Mayor Wang Kun-hung is escorted by police after being questioned in Taichung on April 12.
Photo: Chang Jui-chen, Taipei Times
The gunman's son, Liu Chia-wei (劉家瑋), was sentenced to eight years in prison for his role in the shooting.
In accordance with the Local Government Act (地方制度法), Wang, an independent who was elected Jhuci mayor in the nine-in-one elections in 2014, was suspended from office on Friday.
He can only be dismissed from office if he is found guilty in a second and third ruling.
Police detain Liu Jui-tang, the hitman hired by Jhuci Township Mayor Wang Kun-hung to kill a police officer, in Tainan on March 4.
Photo: Yang Chin-cheng, Taipei Times
A judicial investigation found that Wang had suspected his former wife was having an affair with Lin, so he offered NT$2 million (US$63,532) as a reward for someone to kill the police officer.
Wang's friends contacted Liu, who tracked down Lin in front of his wife's store in Chiayi City's East District (東區) on Jan. 21 and killed him with three shots from a modified Ithaca shotgun.
Liu then threw the shotgun into a river in Tainan.
Two months later, a local fisherman stumbled upon the weapon, half-buried in a muddy river bank, and reported his finding to police.
Both Wang and his lawyer said the ruling was unfair, because there was no evidence linking Wang to the crime.
Wang's lawyer said his client is innocent and would appeal the verdict.
Chiayi District Court spokesman Lin Kun-chi (林坤志) said there was a thorough investigation and the judges made the decision based on the weight of evidence.
Comments will be moderated. Keep comments relevant to the article. Remarks containing abusive and obscene language, personal attacks of any kind or promotion will be removed and the user banned. Final decision will be at the discretion of the Taipei Times.