HK activist deported from Thailand
Hong Kong democracy campaigner Joshua Wong (黃之鋒) returned home yesterday after being deported from junta-run Thailand, where he was due at events commemorating a massacre of student activists, as his supporters blamed China for his detention.
The bespectacled Wong, 19, famed for his galvanizing role in the territory's 2014 pro-democracy "Umbrella movement," was held upon his arrival at Bangkok's Suvarnabhumi Airport.
"At around 1am Hong Kong time, I arrived in Bangkok airport, around 20 police force and immigration department came and held my passport immediately," an exhausted Wong, who flew back yesterday afternoon, told reporters waiting in the arrivals hall in Hong Kong.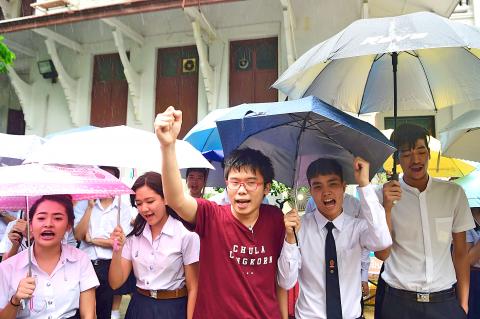 Students at Chulalongkorn University in Bangkok, Thailand, stage an umbrella protest yesterday in support of Hong Kong democracy campaigner Joshua Wong.
Photo: AFP
Wong said he was forced into a cell in the airport police station for about 12 hours, with Thai authorities refusing to let him contact family or lawyers.
"When I asked them what is the reason for detaining me, they just say that we will not give you any explanation and you have been blacklisted already," he added.
Demosisto, the political party cofounded by Wong this year, said it "strongly condemns the Thai government for unreasonably limiting Wong's freedom and right to entry."
Speculation swirled that Thailand's military government was acting under pressure from China — a key ally that has lavished investment and diplomatic support on the junta following a 2014 coup.
Thai student activist Netiwit Chotipatpaisal, who invited Wong to speak in Thailand, said police had told him of a "letter from the Chinese government to the Thai government concerning this person."
An airport immigration official confirmed there had been an "order" to detain Wong, but declined to say who issued it.
Wong had been due to speak at an event in Bangkok today marking the 40th anniversary of a massacre of pro-democracy students by security forces and royalist militias.
Comments will be moderated. Keep comments relevant to the article. Remarks containing abusive and obscene language, personal attacks of any kind or promotion will be removed and the user banned. Final decision will be at the discretion of the Taipei Times.