Mega Financial executives detained after court ruling
The Taipei District Court yesterday ruled that former Mega Financial Holding Co (兆豐金控) executives Mckinney Tsai (蔡友才) and Wang Chi-pang (王起梆) should be detained on accusations of financial irregularities that contravened the Securities and Exchange Act (證券交易法) and the Banking Act (銀行法).
The court held an overnight hearing and announced its decision at 5:20am.
The judges concurred with the reasons stated in the prosecutors' motion, citing the duo's involvement in alleged financial irregularities; alleged serious violations including forgery of documents and breach of trust; the likelihood of their collusion and tampering with evidence; and that they would flee the nation.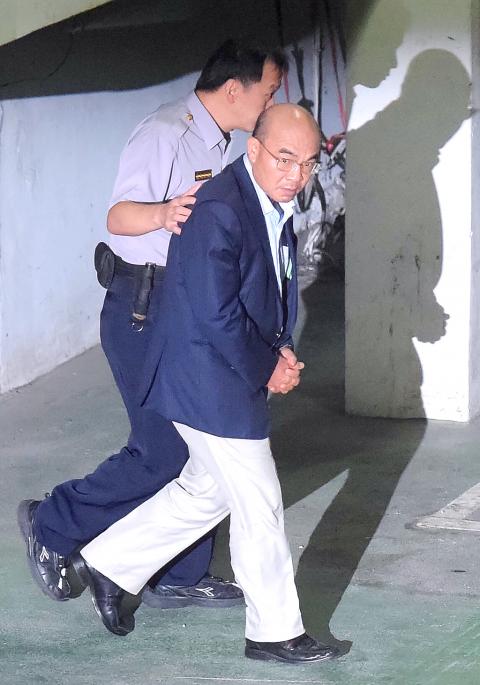 Former Mega Financial Holding Co chairman Mckinney Tsai is escorted from the Taipei District Court yesterday morning after it ruled that he should be detained.
Photo: Huang Yao-cheng, Taipei Times
During the hearing, Tsai appealed to the judges to release him on bail, saying he would fully cooperate with the investigation, attend judicial proceeding as required and promise not to flee the nation.
Tsai added that he was diagnosed with Parkinson's disease three years ago and he requires regular medication, so his health could deteriorate to a life-threatening condition if he was detained.
The two were later transferred to the Taipei Detention Center.
The court appearance came after prosecutors conducted raids on Monday, before summoning 18 people for questioning, including Tsai, Wang, Ruentex Group (潤泰集團) chairman Samuel Yin (尹衍樑) and former Chien Chi Asset Management Co (鑒機資產管理) chairman Steve Hsieh (謝泓源).
Yin was released after questioning on Tuesday, while Hsieh was released after posting NT$200,000 bail.
Tsai was chairman of both Mega Financial and its flagship banking unit Mega International Commercial Bank (兆豐銀行), while Wang was a former Mega Financial chief secretary and an aide to Tsai.
Prosecutors said the men had been evasive, giving conflicting accounts while attempting to shirk responsibility when questioned about loans of up to NT$20 billion (US$638 million) to Chien Chi, a Ruentex subsidiary.
Prosecutors said that Ruentex subsidiaries received NT$28.9 billion in loans from Mega Bank when Tsai was the bank's chairman, but media personality Vivian Tsai (蔡玉真) alleged that Yin's companies had obtained more than NT$73.7 billion from Mega Bank, accusing Yin of using unscrupulous means, undue influence and his personal relationship with Mckinney Tsai to benefit financially.
She urged the financial regulator to look into the case.
Mckinney Tsai and Wang have been listed as defendants in a money laundering case related to Mega Bank's branches in New York and Panama.
Citing poor health, Mckinney Tsai resigned as chairman of Mega Financial in March, but a month later he was appointed chairman of Chien Chi.
Comments will be moderated. Keep comments relevant to the article. Remarks containing abusive and obscene language, personal attacks of any kind or promotion will be removed and the user banned. Final decision will be at the discretion of the Taipei Times.