Former Mega Bank executives in court
FINANCIAL IRREGULARITIES: Prosecutors said Mckinney Tsai and Wang Chi-pang had attempted to shift responsibility for the Chien Chi Asset Management loans to each other
Prosecutors yesterday sought to detain Mckinney Tsai (蔡友才) and Wang Chi-pang (王起梆), two former top executives at Mega Financial Holding Co (兆豐金控), after they accused both men of financial irregularities, breach of trust, forgery and other related offenses.
Tsai and Wang had been evasive and had attempted to shirk their responsibility on allegations of questionable loans of up to NT$20 billion (US$638 million) to Chien Chi Asset Management Co (鑒機資產管理) earlier this year, officials at the Taipei District Prosecutors' Office said.
Tsai was chairman of both Mega Financial and of its flagship banking unit, Mega International Commercial Bank (兆豐銀行), and Wang was a former chief secretary of Mega Financial and an aide to Tsai.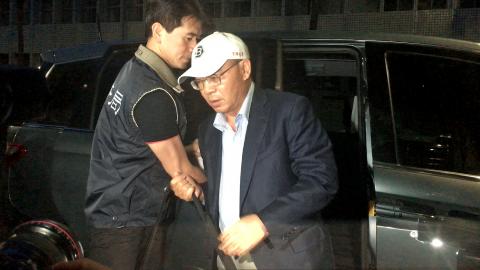 Former Mega Financial Holding Co chairman Mckinney Tsai, right, arrives for a fifth round of questioning at the Taipei District Prosecutors' Office yesterday.
Photo: Hsieh Chun-lin, Taipei Times
After resigning from Mega Financial in March, Tsai joined Chien Chi Asset Management, owned by Ruentex Group (潤泰集團) chairman Samuel Yin (尹衍樑).
Tsai and Wang have been accused of violating of the Securities and Exchange Act (證券交易法) and the Banking Act (銀行法).
Prosecutors found that within a month of Tsai becoming chairman of Mega Financial, Chien Chi Asset Management's assets increased from NT$8 billion to NT$20 billion due to questionable loans from Mega Bank.
Prosecutors said they received conflicting accounts from Tsai and Wang, and that they suspected that the pair had forged documents to obtain the loans.
They said both men tried to shift responsibility onto the other when questioned about the transactions.
Tsai and Wang had already been listed as defendants in a money-laundering case related to Mega Bank's New York branch.
Citing Tsai and Wang's alleged involvement in financial irregularities, possible tampering with evidence, the likelihood of their collusion and the possibility they could flee the nation, prosecutors applied to have the two men detained incommunicado during an ongoing investigation into the case.
The bail hearing was still ongoing as of press time last night.
Tsai looked glum and did not respond to reporters' questions when he arrived at the Taipei District Prosecutors' Office for questioning on Monday night.
The office and the Criminal Investigation Bureau conducted raids at Chien Chi Asset Management and other locations on Monday, where they gathered documents and financial records, before summoning 18 people for questioning.
Aside from Tsai and Wang, those summoned for questioning included Yin and former Chien Chi Asset Management chairman Steve Hsieh (謝泓源).
Yin told reporters: "I am innocent," and: "Based on all the facts, I have confidence," when he was released by prosecutors yesterday morning following questioning.
Previously, prosecutors had carried out three rounds of raids at various locations and had summoned Tsai four times in the past two months as they investigated allegations of money laundering and financial irregularities at Mega Bank.
The Financial Supervisory Commission had been instructed by the government to conduct a probe into violations of the money-laundering rules by Mega Bank's New York branch that incurred a US$180 million fine from the New York State Department of Financial Services in August.
Subsequently, the watchdog fined Mega Bank NT$10 million after finding evidence of suspicious bank accounts and questionable practices in 174 transactions between its New York and Panama branches.
Comments will be moderated. Keep comments relevant to the article. Remarks containing abusive and obscene language, personal attacks of any kind or promotion will be removed and the user banned. Final decision will be at the discretion of the Taipei Times.