Philippines, US to conduct war games as Duterte softens
SHOW OF FORCE: About 1,400 US personnel based in Okinawa are to take part in the military drills that are set to begin on Tuesday next week
The Philippines and the US have scheduled military drills next month in the Southeast Asian nation, the US embassy in Manila said, days after Philippine President Rodrigo Duterte acknowledged that his country did need US troops in the South China Sea.
About 1,400 US personnel based in Okinawa, Japan, and 500 Philippine Armed Forces personnel are to conduct an amphibious landing exercise and live-fire training in multiple locations on the island of Luzon and in Palawan, according to a statement on the embassy's Web site on Saturday.
The drills, aimed at making troops better prepared to operate together during a natural disaster or armed conflict, are set for Oct. 4 to Oct. 12.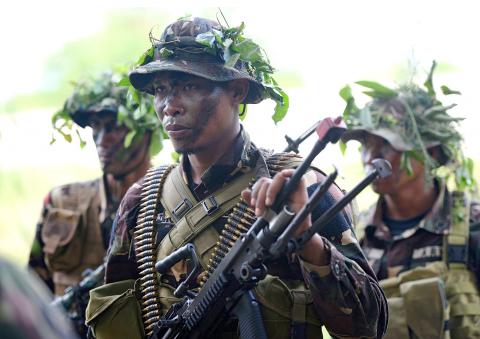 Philippine scout rangers listen to instructions at their training camp in San Miguel, the Philippines, on Sept. 15.
Photo: AFP
Duterte has sent conflicting messages about Philippine foreign policy and the nature of his nation's tie-ups with overseas partners since he was sworn in late in June, sowing confusion at a time of rising concern about China's claims to most of the South China Sea.
The former mayor last week acknowledged that his country needed US troops after earlier calling for the end of joint patrols in the strategic waterway.
The US alliance with the Philippines has for decades been a bedrock of US influence in the region.
"Exchanging expertise and cultivating our longstanding security alliance provides a cornerstone for security and stability in the region, and has for decades," US Brigadier General John Jansen, Commanding General, 3rd Marine Expeditionary Brigade, said in the statement.
Duterte has proved to be unpredictable, as well as blunt and provocative, in his opening weeks in office, and has often made conflicting statements. These have included remarks on whether the Philippines intends to negotiate with China over territory in the South China Sea, a region in which Manila also has claims.
Taiwan, Brunei, Malaysia and Vietnam also have claims in the area.
Comments will be moderated. Keep comments relevant to the article. Remarks containing abusive and obscene language, personal attacks of any kind or promotion will be removed and the user banned. Final decision will be at the discretion of the Taipei Times.