Internal dispute arises in KMT over 'consensus'
ASSETS ISSUE: Caucus convener Sufin Siluko said that legal action against a party assets committee and protest action were options amid a 'hunt' of the KMT
Some Chinese Nationalist Party (KMT) lawmakers have voiced discontent over KMT headquarters' new approach to the so-called "1992 consensus," party caucus convener Sufin Siluko (廖國棟) said yesterday.
The "1992 consensus" — a term former Mainland Affairs Council chairman Su Chi (蘇起) admitted making up in 2000 — refers to a supposed understanding between the KMT and the Chinese government that both sides acknowledge there is "one China," with each side having its own interpretation of what "China" means.
In response to media inquiries after a caucus meeting yesterday, Sufin said some KMT lawmakers were opposed to a new policy platform that scrapped "one China, different interpretations," while keeping the "1992 consensus."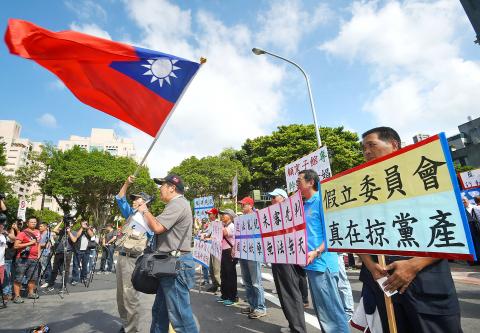 Chinese Nationalist Party (KMT) supporters in Taipei yesterday protest in front of the Ill-gotten Party Assets Settlement Committee office, criticizing the government investigation into the KMT's assets.
Photo: Fang Pin-chao, Taipei Times
KMT Chairwoman Hung Hsiu-chu's (洪秀柱) amendment of the policy platform — which says that the "1992 consensus" already contains the idea of "different interpretations" — has been interpreted as an attempt to move closer to "one China, same interpretation."
According to some local media, legislators from southern Taiwan raised the issue at the meeting, which was scheduled mainly to discuss the legislature's review of the nomination for the Judicial Yuan's presidency.
Sufin said that many lawmakers "had a hard time suppressing" their discontent concerning the "consensus" issue, adding that the caucus is to meet to clarify the party's stance on the "1992 consensus" and "one China, different interpretations."
"What we have now is a '1992 consensus' with 'one China, different interpretations,' but the headquarters have some other phrasing, which many caucus members believe needs further discussion and clarification," the convener said.
Sufin said that he would describe the dispute as a struggle between different ideas of party lines.
"This is a serious, but also realistic matter; for the KMT caucus, there needs to be a consistent stance that would help the development of the Republic of China when [lawmakers] face their constituencies," he said.
In related news, Sufin said that he would support a party headquarters decision to take legal action against the Cabinet's Ill-gotten Party Assets Settlement Committee.
He said that protest action would definitely be taken.
"If we remain silent, they would hunt us down, so there is no question that actions aimed at fighting back are going to take place," he said.
He called the committee "hysterical" in its "hunting" of the KMT.
KMT Culture and Communications Committee Director Chow Chi-wai (周志偉) yesterday morning thanked "people with a sense of justice" for a protest yesterday afternoon against the Ill-gotten Party Assets Settlement Committee to "uphold fairness and justice."
The committee has been taking actions against the rule of law and with prejudice, which is destined to spark social instability and dissatisfaction, and the KMT believes that there would be more "voices of justice" in the future denouncing the Democratic Progressive Party's unjust deeds, Chow said.
A group of people who called themselves "Blue Sky Action Alliance" gathered outside the office of the committee, accusing committee chairman Wellington Koo (顧立雄) of being "shameless" and calling the committee "a garbage agency."
The pro-unification Concentric Patriotism Association was also there, shouting: "Long live China; long live the Republic of China," while members allegedly called on protesters to break into the building.
Additional Reporting by Chen Yu-fu
Comments will be moderated. Keep comments relevant to the article. Remarks containing abusive and obscene language, personal attacks of any kind or promotion will be removed and the user banned. Final decision will be at the discretion of the Taipei Times.