Judicial committee signs off on bill abolishing SID
The Special Investigation Division (SID) of the Supreme Prosecutors' Office could be abolished by the beginning of next year, if a draft amendment approved yesterday at a meeting of the legislature's Judiciary and Organic Laws and Statutes Committee is passed by the full legislature.
There has been widespread speculation that the government would seek to abolish the agency since Minister of Justice Chiu Tai-san (邱太三) took office in May.
The bill is expected to clear the legislature by the end of this year, with the amendment to take effect in January next year.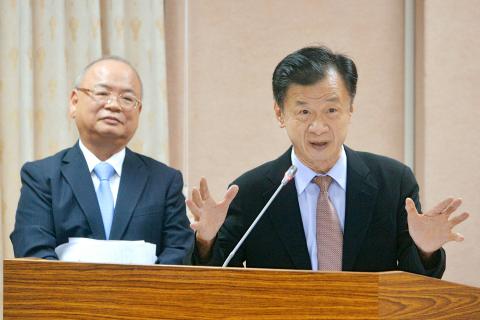 Minister of Justice Chiu Tai-san, right, and Prosecutor-General Yen Ta-ho yesterday take part in a question-and-answer session at the Legislative Yuan a bill to abolish the Special Investigation Division passed the first reading.
Photo: CNA
The committee yesterday passed a draft amendment to the Organic Act for Courts (法院組織法) that removes the legal basis for the agency, which was established in 2007 to investigate allegations of corruption by senior government and military officials.
The committee's members deliberated on the proposal to revise Article 63-1 of the act, which states that the focus of the agency's investigations and prosecutions should include large-scale economic crimes, activities harmful to social order, and corruption or negligence involving high-level public officials.
Chiu yesterday said that he supports the move to abolish the division.
Once the agency is abolished, central and district prosecutors' offices investigating major corruption cases involving government officials would be allowed to enlist the help of professionals from other government departments, and prosecutors would also be able to conduct probes outside of their own jurisdictions, he said.
"We know that there have been major disputes and controversies over the SID's operation. Some members of the public also wonder why so many probes by the SID end with the charges being dropped or prosecutions deferred," Chiu said. "It is also true that some aspects of the SID are at odds with the public prosecutorial system."
Comments will be moderated. Keep comments relevant to the article. Remarks containing abusive and obscene language, personal attacks of any kind or promotion will be removed and the user banned. Final decision will be at the discretion of the Taipei Times.