Chinese jets fly combat patrol over disputed islands
China's air force on Saturday said that it has conducted a combat air patrol over disputed areas of the South China Sea to improve its fighting ability.
The announcement comes after Beijing said it wanted to tamp down tensions following its strong rejection of an international tribunal that ruled that its claim to virtually all of the South China Sea has no legal basis.
China refused to take part in the case taken by the Philippines to The Hague-based Permanent Court of Arbitration and continues to assert that islands in the South China Sea are its territory.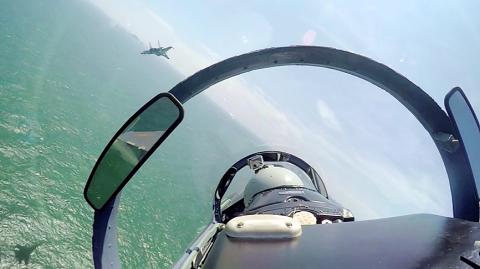 A pair of Chinese fighter jets fly during a patrol over the South China Sea in an undated photograph.
Photo: AP
The air force did not say when the exercises took place.
Last month, after the July 12 ruling, the air force said that it had conducted patrols over the South China Sea and would make it "a regular practice."
Chinese People's Liberation Army Air Force spokesman Senior Colonel Shen Jinke (申進科) said in an online statement that the patrol was "to enhance combat capabilities to deal with various security threats" and to safeguard the nation's sovereignty and maritime rights and interests.
Shen said bomber and fighter aircraft, early warning aircraft, reconnaissance planes and planes that can refuel in flight patrolled the airspace around the Spratly Islands (Nansha Islands, 南沙群島), Scarborough Shoal (Huangyan Island, 黃岩島) and surrounding areas. The Spratlys and Scarborough Shoal are claimed by Taiwan, China and the Philippines.
Brunei, Malaysia and Vietnam also claim the Spratlys.
Last week, Chinese Minister of Foreign Affairs Wang Yi (王毅) said the US, Japan and Australia were "fanning the flames" of regional tensions after they released a joint statement urging China not to construct military outposts or reclaim land in disputed waters.
On Wednesday, Chinese Ministry of Foreign Affairs spokeswoman Hua Chunying (華春瑩) said that "China stands ready to continue its efforts to peacefully resolve relevant disputes in the South China Sea."
In the Philippines on Saturday, about 300 Vietnamese and Filipino protesters called on China to comply with the decision of the arbitration tribunal in a rally in front of the Chinese consulate in Manila.
"The more it defies the ruling, the more credibility it loses," Vietnamese protester Nguyen Quoc Giang said.
Former Philippine National Security Adviser Roilo Golez said at the demonstration that Philippine President Rodrigo Duterte's administration should show more vigor in standing up to the Chinese government, while maintaining favorable trade and diplomatic ties with the Asian economic powerhouse.
Comments will be moderated. Keep comments relevant to the article. Remarks containing abusive and obscene language, personal attacks of any kind or promotion will be removed and the user banned. Final decision will be at the discretion of the Taipei Times.