Government to seek return of five from Kenya
Premier Lin Chuan (林全) yesterday said the government would strive to secure the return of five acquitted Taiwanese from Kenya to Taiwan.
Lin made the remarks in response to media queries regarding a case in which a Kenyan court on Friday acquitted five Taiwanese and 35 Chinese who were arrested two years ago on suspicion of telecommunications fraud.
The court ruled that the Taiwanese must be immediately deported to Taiwan.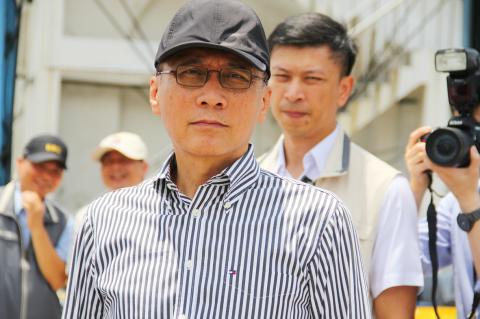 Premier Lin Chuan yesterday said the government would strive to secure the return of five Taiwanese from Kenya.
Photo: CNA
However, Chinese authorities are demanding that the five be sent to China with the Chinese former suspects.
Lin said the government has an obligation and a responsibility toward Taiwanese implicated in legal cases abroad.
When asked what recourse the government has at this point, Lin said: "We are continuing to strive for a solution."
Lin said that the government would bear responsibility in the matter and said it would do all it can to deal with the "illegal course of action."
Lin said that although the situation involves ongoing problems in cross-strait relations, the issue should be approached as one of dealing with illegal deportation.
In total, 111 Chinese and Taiwanese have been arrested, but most of them were deported, because they did not have visas to stay in Kenya.
Forty-five other Taiwanese arrested on similar charges were draped in black hoods and deported to China upon their acquittal in April, despite expressing fears of human rights violations, rights group Amnesty International said in a statement.
They are undergoing a second trial in China, it said.
Amnesty International said Kenyan authorities must not deport the five Taiwanese released on Friday to China, where they face a real risk of human rights violations.
"If deported to China, they could face serious violations of their fair-trial rights. There is no doubt Kenya cherishes its relationship with China, but by no means should it sacrifice these individuals' rights for political expediency, the due process of the law must be respected," Amnesty East Africa campaigner Victor Odero said.
The move was criticized by the government in Taipei, which said it wanted its people returned home.
Analysts said China's specific goal for accepting Taiwanese previously deported from Kenya is to extract concessions from President Tsai Ing-wen (蔡英文), who has refused to endorse the so-called "1992 consensus," a term former Mainland Affairs Council chairman Su Chi (蘇起) admitted making up in 2000, which refers to a tacit understanding between the Chinese Nationalist Party (KMT) and the Chinese government that both sides of the Taiwan Strait acknowledge there is "one China," with each side having its own interpretation of what "China" means.
Comments will be moderated. Keep comments relevant to the article. Remarks containing abusive and obscene language, personal attacks of any kind or promotion will be removed and the user banned. Final decision will be at the discretion of the Taipei Times.