Ex-employee kills 19 in Japan care home knife attack
A man who had threatened attacks on disabled people went on a knife rampage yesterday at the care center where he previously worked, leaving 19 people dead in Japan's worst mass killing for decades.
The 26-year-old had been hospitalized earlier this year after delivering a letter to parliament in which he threatened to kill hundreds of disabled people.
He turned himself in at a police station, carrying bloodied knives and telling officers: "I did it."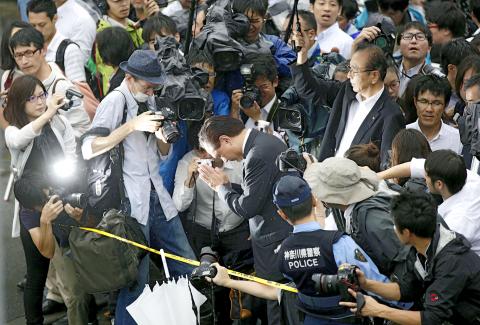 Journalists surround Kanazawa Prefecture Governor Yuji Kuroiwa, center, offering a prayer for victims killed at residential care facility for disabled people in Sagamihara, near Tokyo, Japan, yesterday.
Photo: EPA
"The disabled should all disappear," he reportedly said.
Authorities identified the attacker as Satoshi Uematsu and said he had worked at the care center for mentally disabled people in Sagamihara, a city of more than 700,000 people west of Tokyo, until February.
They said the attack began in the early hours of the morning when Uematsu broke a first-floor window to get in.
Public broadcaster NHK reported that he tied up one caregiver before starting to stab the residents.
"The patients are very shocked mentally and they cannot speak now," a doctor told NHK.
A fleet of ambulances, police cars and fire trucks converged on the Tsukui Yamayuri-en center, a low-rise complex nestled against forested hills, which was cordoned off and draped with yellow "Keep Out" tape.
"This is a very tragic, shocking incident in which many innocent people became victims," Chief Cabinet Secretary Yoshihide Suga told a press conference.
Japanese media said that in February, Uematsu had delivered a letter to the speaker of Japan's parliamentary lower house, threatening to attack two care centers, including Tsukui Yamayuri-en, and kill 470 residents.
He said it would launch a "revolution" that would "stimulate the economy and prevent World War III."
In the letter he also presented his vision of a society in which the seriously handicapped could be euthanized with the approval of family members since "handicapped people only create unhappiness."
The ramblings brought him to the attention of Tokyo police, who informed Sagamihara authorities that he was a potential threat, a city official said.
NTV reported that Uematsu told police he had been fired from his job, though officials said only that he left the position.
Uematsu was hospitalized on Feb. 19, reportedly the same day he left his job, but was discharged 12 days later when he was deemed not a threat, the Sagamihara city official said.
Comments will be moderated. Keep comments relevant to the article. Remarks containing abusive and obscene language, personal attacks of any kind or promotion will be removed and the user banned. Final decision will be at the discretion of the Taipei Times.