KMT lawmakers 'breathe sigh of relief' over assets
Chinese Nationalist Party (KMT) lawmakers said they "breathed a collective sigh of relief" after the passage on Monday of the Act Governing the Handling of Ill-gotten Properties by Political parties and Their Affiliate Organizations (政黨及其附隨組織不當取得財產處理條例), saying that they can now put the issue behind them for elections.
KMT Legislator Wang Jin-pyng (王金平) said that with the issue removed, "the KMT has an opportunity for rebirth."
"It is one more heavy burden off the party's back and one less issue that the KMT's rivals can use against the party," he added.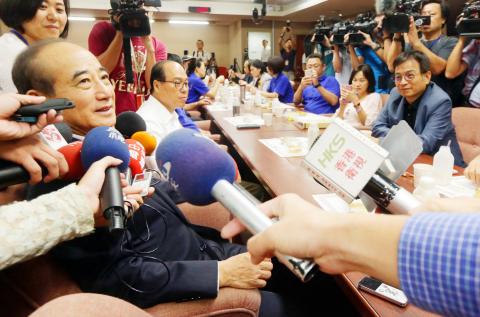 Chinese Nationalist Party (KMT) Legislator Wang Jin-pyng, left, talks to reporters in Taipei yesterday following the passage of the Act Governing the Handling of Ill-gotten Properties by Political Parties and Their Affiliate Organizations.
Photo: CNA
"With the assets gone, party members should start eating sweet potatoes," added KMT Legislator Huang Chao-shun (黃昭順), who made the remarks over a light breakfast that consisted of potatoes, bread and an egg during a caucus meeting yesterday morning.
KMT caucus whip Liao Kuo-tung (廖國棟) said the caucus has completed the tasks the party gave it and the party would no longer be "bullied" over its party assets.
However, he added that the party would now focus its efforts on asking for a constitutional interpretation of the law.
KMT Central Policy Committee Director Alex Tsai (蔡正元) said the Democratic Progressive Party (DPP) would definitely make a great deal out of the KMT's assets in an attempt to cover up the ineptitude of its governance, adding that as the opposition party's duty is to provide oversight of the ruling party, the KMT caucus would now "keep fighting" and keep the DPP government in check.
At a separate setting yesterday, New Party Chairman Yok Mu-ming (郁慕明) was critical of the law's passage, saying that pro-independence groups should be ashamed of themselves for continuing to profit from cultural relics from China.
The DPP should not stop at the law's passage in its pursuit of "transitional justice," Yok said, adding that it should abolish the Constitution and create a new one ratified by a referendum.
"Taiwan might have its public opinion, but China has its own, too," Yok said, calling on China to pursue its own "transitional justice" and call for the return of gold and National Palace Museum relics that Chiang Kai-shek (蔣介石) brought to Taiwan.
Yok called on China to demand from the "pro-Taiwanese independence" government, which does not consider itself Chinese, the return of what should be Chinese property.
Comments will be moderated. Keep comments relevant to the article. Remarks containing abusive and obscene language, personal attacks of any kind or promotion will be removed and the user banned. Final decision will be at the discretion of the Taipei Times.