Two dead and 14 injured in Florida nightclub shooting
At least two people were killed and 14 wounded in a shooting early yesterday at a Florida nightclub, police said, in an incident that reportedly occurred at a party for teenagers.
The attack comes just six weeks after an attack at a gay club in the state left 49 dead in the worst massacre on US soil since the Sept. 11, 2001, attacks.
Officers have detained one "person of interest" and two other individuals for questioning over the latest shooting, which happened at Club Blu in Fort Myers.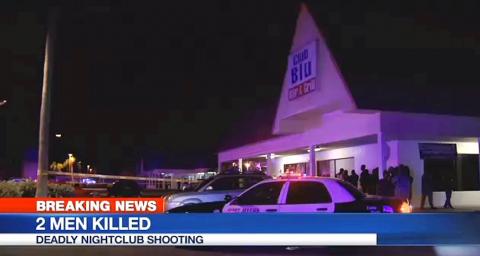 In a frame from WBBH video, people gather near the scene of a fatal shooting at Club Blu nightclub in Fort Myers, Florida, yesterday.
Photo: AP
The venue was holding a party for teens at the time, according to the local CBS affiliate.
The Fort Myers Police Department reported that while two individuals were fatally shot, "at least 14-16" sustained minor to life-threatening wounds during the episode, which occurred at about 12:30am in the club's parking lot.
A nearby home and vehicles were also shot at, resulting in one minor injury, the department said in a statement.
"At this time, the scene is still very active as investigators and crime scene personnel attempt to determine what had occurred," the statement said, adding that multiple area streets had been closed.
Officers are "actively canvassing the area looking for other persons who may be involved in this incident," although the area had been deemed safe, it added.
An attack on a gay nightclub in Orlando, Florida on June 12 left 49 dead in the worst gun massacre in recent US history.
Police killed the gunman, Omar Mateen, a 29-year-old US citizen of Afghan origin, after a three-hour standoff.
The Islamic State militant group claimed responsibility for that attack, calling Mateen "one of the soldiers of the caliphate."
US authorities have said he was apparently radicalized after watching extremist propaganda online.
That rampage and other recent shootings have renewed debate about gun laws in the US.
After the incident, the White House denounced what it called the "cowardice" of US senators who failed to pass gun control legislation.
Comments will be moderated. Keep comments relevant to the article. Remarks containing abusive and obscene language, personal attacks of any kind or promotion will be removed and the user banned. Final decision will be at the discretion of the Taipei Times.