Damascus 'ready' for peace talks as fighting continues
The Syrian government yesterday said that it was ready for further peace talks with the opposition and that it was intent on a political solution to the five-year conflict, which continued unabated as reports emerged of hospitals being hit in airstrikes.
"Syria ... is ready to continue the Syrian-Syrian dialogue without any preconditions ... and without foreign interference, with the support of the United Nations," state news agency SANA quoted a Syrian Ministry of Foreign Affairs official as saying.
The UN hopes to convene a new round of intra-Syrian peace talks in Geneva, Switzerland, next month, UN envoy to Syria Staffan de Mistura said last week.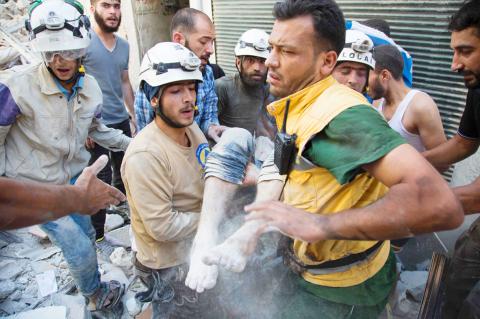 Civil defense volunteers carry a body from the rubble of a building following an airstrike in Aleppo, Syria, on Saturday.
Photo: AFP
Previous rounds of talks this year broke down as fighting escalated, particularly near Aleppo, where government forces recently cut off the only road into rebel-held areas of the divided northern city.
The US and Russia, which back opposing sides in the conflict, are to discuss a proposal by Washington for closer military cooperation and intelligence sharing on Syria to combat militant groups.
US Secretary of State John Kerry this month said that Washington and Damascus ally Moscow had reached a common understanding on the steps needed to get Syria's peace process back on track.
Meanwhile, four makeshift hospitals and a blood bank in Aleppo were hit by airstrikes, a group of doctors said yesterday.
The bombardment killed a two-day-old baby in a children's hospital in a besieged eastern neighborhood of Aleppo, said the Independent Doctor's Association, a group of Syrian doctors who support clinics in the city.
The infant's oxygen supply was cut after a strike on the hospital at 1am, the second strike on the hospital in about nine hours, the association said.
"The doctors could only yell for their colleagues to take cover and shield the babies," the group said in a statement.
The association said the four hospitals that were hit — the children's hospital, al-Bayan, al-Zahraa and al-Daqaq — would all be going out of service "as a result of the escalating series of aerial attacks taking place against health facilities in Aleppo by Syrian and Russian warplanes."
The WHO said Syria was the most dangerous place for healthcare workers to operate last year, with 135 attacks on health facilities and workers last year.
In recent months, several hospitals have been damaged and medical staff killed in the densely populated eastern neighborhoods of Aleppo. A hospital in the eastern Maadi neighborhood was hit, wounding some of the staff and patients inside. More than 280,000 people have been killed since Syria's conflict erupted in 2011, and millions have been forced to flee.
Comments will be moderated. Keep comments relevant to the article. Remarks containing abusive and obscene language, personal attacks of any kind or promotion will be removed and the user banned. Final decision will be at the discretion of the Taipei Times.