Germany asks 'why' after shootings
VERBAL EXCHANGE: A video apparently showed the gunman protesting that he was a German after a man shouted insults, including one denigrating to foreigners
Police were yesterday probing the motives of the German-Iranian teenager who went on a deadly rampage with a gun at a busy Munich shopping center, the third bloody attack on civilians in Europe in just over a week.
Nine people were killed and 16 wounded as the black-clad gunman brought terror to Germany's third-largest city on Friday evening before committing suicide.
"Bloodbath in Munich," was the headline on the Bild newspaper as shockwaves reverberated across the continent.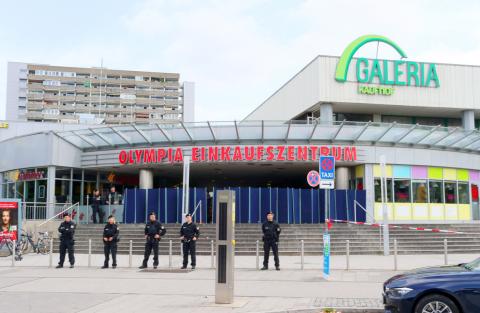 Police officers yesterday stand in front of a mall that was the scene of shootings in Munich, Germany.
Photo: AFP
The killing spree sent the southern city into lockdown as elite police launched a massive operation to track down what had initially been thought to be up to three assailants.
German Chancellor Angela Merkel was to convene her security council to address the shooting, which came just days after an axe rampage on a train in the same German state of Bavaria and just over a week after a truck attack in the French Riviera city of Nice that killed 84 people.
Grieving Munich residents laid roses and lit candles in memory of the people killed in Munich, with one placard bearing the simple plea: "Why?"
Police chief Hubertus Andrae told reporters that the assailant was an 18-year-old dual national German-Iranian from Munich who had no criminal record.
"The motive or explanation for this crime is completely unclear," Andrae said.
Armed with a handgun, the attacker opened fire at a McDonald's restaurant and continued along a street before entering the mall.
A police patrol shot and wounded the gunman, but he fled before police found the body of what they said was the "only shooter."
Among the nine killed were three Kosovans, according to the German Ministry of Foreign Affairs in Pristina, while Munich police said that those injured included children.
A video posted on social media appeared to show a man in black walking away from a McDonald's while firing repeatedly at people as they fled screaming.
Survivors described terrifying scenes as shoppers rushed from the area, some carrying children in their arms.
"We entered McDonald's to eat ... then there was panic, and people ran out," one woman told Bavarian television.
Another video appeared to show the gunman on a carpark roof exchanging a tirade of insults with a man on a nearby balcony.
"I'm German, I was born here," the assailant said in the video after the man fired off a volley of swear words, including an offensive term for foreigners.
Police initially believed there could be up to three assailants.
Andrae later said two others had "absolutely nothing to do" with the attack and that they were simply fleeing the scene.
Munich's main train station was evacuated and metro and bus transport suspended for several hours while residents were ordered to stay inside, leaving the streets largely deserted.
By early yesterday, transport services were running again.
The mall is near the stadium for the 1972 Olympics and the athletes' village, which was the site of the hostage-taking of Israeli athletes by the Palestinian Black September group that ended in a massacre.
Europe has been on high alert for terrorism after a string of attacks in neighbouring France and Belgium claimed by the Islamic State group.
"It has reached us. People in Munich have long had a queasy feeling. Fears grew with every attack in Paris, Istanbul or Brussels," Abendzeitung newspaper editor-in-chief Michael Schilling said.
Comments will be moderated. Keep comments relevant to the article. Remarks containing abusive and obscene language, personal attacks of any kind or promotion will be removed and the user banned. Final decision will be at the discretion of the Taipei Times.