Turkey expands post-coup purge, urges extradition
Turkey yesterday purged its police after rounding up thousands of soldiers in the wake of a failed military coup, and said it could reconsider its friendship with the US unless Washington hands over a cleric Ankara blames for the putsch.
Turkish authorities moved swiftly to retaliate for Friday night's coup, in which more than 200 people were killed when a faction of the armed forces tried to seize power.
However, the swift justice, including calls to reinstate the death penalty for plotters, drew concern from Western allies, who said Ankara must uphold the rule of law in the country.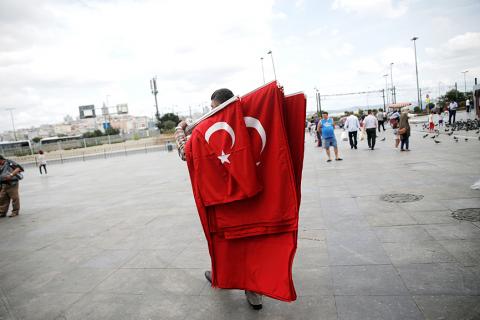 A vendor yesterday sells Turkish national flags in Istanbul's Eminonu district.
Photo: Reuters
Thousands of members of the armed forces, from foot soldiers to commanders, were rounded up on Sunday, some shown in photographs stripped to their underpants and handcuffed on the floors of police buses and a sports hall. Several thousand prosecutors and judges have also been removed.
A senior security official said that 8,000 police officers, including in Ankara and Istanbul, had also been removed from their posts on suspicion of links to the coup bid.
Thirty regional governors and more than 50 high-ranking civil servants have also been dismissed, CNN Turk said.
Turkish Prime Minister Binali Yildirim said 7,543 people had so far been detained, including 6,038 soldiers.
Work was also under way to purge the civil service.
Turkey blames the failed coup on Fethullah Gulen, a US-based cleric who has denied any involvement.
Ankara has demanded Washington hand him over. Washington says it is prepared to extradite him, but only if Turkey provides evidence linking him to crime.
Yildirim rejected that demand.
"We would be disappointed if our [US] friends told us to present proof, even though members of the assassin organization are trying to destroy an elected government under the directions of that person," Yildirim said.
"At this stage, there could even be a questioning of our friendship," he added.
Yildirim said 232 people were killed in Friday night's violence, 208 of them civilians, police and loyalist soldiers, and 24 coup plotters.
Officials previously said the overall death toll was more than 290. About 1,400 others were wounded.
Turkey gave up the death penalty in 2004 as part of a program of reforms required to become a candidate to join the EU.
Germany said that Turkey would lose its EU status if it reinstates the death penalty.
Yildirim said Turkey should not act hastily over the death penalty, but could not ignore the demands of its people.
Western countries said they supported the government of Turkish President Recep Tayyip Erdogan, but Ankara should abide by the rule of law.
"We stand squarely on the side of the elected leadership in Turkey. But we also firmly urge the government of Turkey to maintain calm and stability throughout the country," US Secretary of State John Kerry told a news briefing in Brussels where he attended a gathering of European counterparts.
"We also urge the government of Turkey to uphold the highest standards of respect for the nation's democratic institutions and the rule of law. We will certainly support bringing the perpetrators of the coup to justice but we also caution against a reach that goes well beyond that," he said.
Comments will be moderated. Keep comments relevant to the article. Remarks containing abusive and obscene language, personal attacks of any kind or promotion will be removed and the user banned. Final decision will be at the discretion of the Taipei Times.