New Taipei City nursing home fire kills six
INQUIRY: While the Le Huo Nursing Center had passed inspections, it was reported that two or three staff were looking after 40 residents at 7am when the blaze started
A fire that tore through a nursing home in New Taipei City yesterday killed six people and injured 28.
TV footage showed elderly people being evacuated from the facility, some in clothes blackened by smoke.
Three bodies were found in the Le Huo Nursing Center (樂活老人長照) in a 10-story building in New Taipei City's Sindian District (新店), while rescuers rushed 31 to hospital.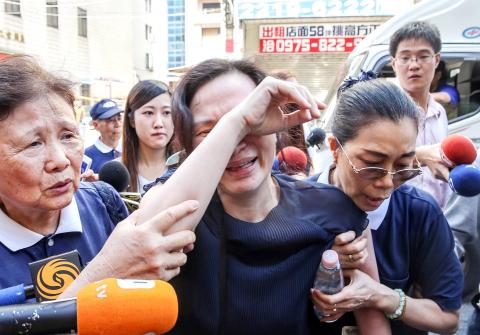 A member of a victim's family yesterday cries in front of a nursing home in New Taipei City where six people were killed in a blaze.
Photo: CNA
"Three bodies were found in a room where the deadly fire likely started," a New Taipei City Fire Department official said.
"As they were all charred, they could not be immediately identified," she said.
A further three people — aged 79, 87 and 95 years old — were later pronounced dead, while 17 were found to be suffering from serious injuries, the fire department said.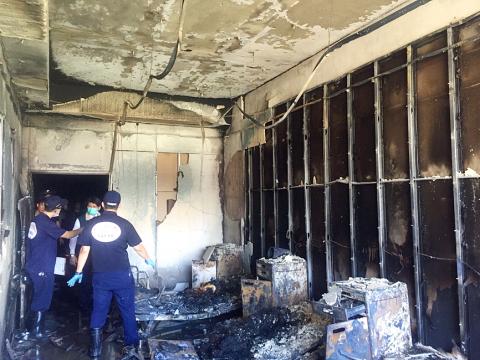 Investigators yesterday examine the origin of a fire at a nursing home in New Taipei City. Six people were killed and one person was critically injured in the blaze.
Photo: Chiang Shiang, Taipei Times
All of the identified dead were women, it said.
The fire broke out about 7am and was extinguished in about 30 minutes, but the evacuation process was made more difficult because most of the elderly residents were bedridden or wheelchair-bound, the department added.
Authorities were investigating the cause of the blaze.
They were also looking into claims that insufficient staffing at the home had further complicated the rescue effort.
"The facility passed inspections, but we are investigating if its response [to the fire] and the staffing on the day met regulations," New Taipei City Deputy Mayor Hou You-yi (侯友宜) told reporters.
The facility has seven staff members, authorities said.
Local media reported that there were only two or three workers looking after about 40 residents at the time of the fire.
It was not immediately clear how many residents were present when the blaze broke out and how many managed to escape.
The owner of the nursing home, Ching Pao-ling (井寶琳), was taken by police for questioning.
Comments will be moderated. Keep comments relevant to the article. Remarks containing abusive and obscene language, personal attacks of any kind or promotion will be removed and the user banned. Final decision will be at the discretion of the Taipei Times.