UK's Gove ramps up leadership bid, May gets support
Political healing after Britain's vote to leave the EU seemed a distant prospect yesterday, as British Secretary of State for Justice Michael Gove ramped up his Conservative leadership bid, while other Cabinet ministers announced their support for British Home Secretary Theresa May.
After last week's vote to leave the EU plunged Britain into its biggest political crisis of modern times, British Prime Minister David Cameron said he would resign, prompting a leadership battle in the Conservative party.
Gove's surprise entry into the leadership race led former London mayor Boris Johnson — his erstwhile ally in the "leave" campaign — to drop out on Thursday.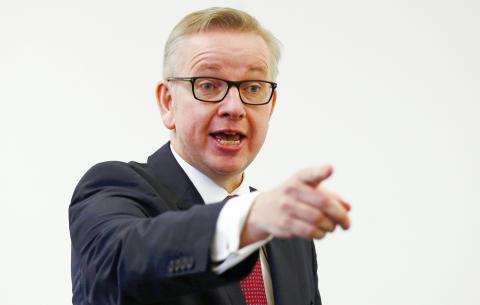 British Secretary of State for Justice Michael Gove yesterday delivers a speech in London after announcing his bid to become Conservative Party leader.
Photo: Reuters
During a news conference yesterday setting out his plans should he win the contest to become the next British prime minister, Gove said that he did not expect Britain to trigger Article 50, the mechanism for leaving the EU, this year.
"One of the reasons I said 'not in this calendar year' is that I think we need to have some preliminary conversations — I wouldn't say negotiations — so I wouldn't want to put a timetable on it," he said. "We control the timing of when we trigger Article 50 and we will do it when we're good and ready."
Gove is up against May and three other candidates to succeed Cameron as party leader and prime minister.
Gove had been expected to back Johnson for the top job, and some Conservatives are furious at his betrayal.
Meanwhile, several Cabinet ministers have already announced their support for May, who is considered a tough politician capable of standing up to EU officials.
British Transport Secretary Patrick McLoughlin said "her track record shows that when Theresa [May] arrives in Brussels, Europe's bosses sit up and listen."
Britain's Daily Mail newspaper has also backed May's bid, saying she is the only one out of the five candidates who is up to the job.
"The Mail believes only Mrs May has the right qualities, the stature and experience to unite both her party and the country — and possibly usher in a new, cleaner, more honest kind of politics," the newspaper said in a comment piece. "She is a serious-minded woman, with an ethic of public service and an enormous capacity for hard work and attention to detail. In this respect, and in her steeliness, she is somewhat reminiscent of [former British prime minister] Margaret Thatcher."
The other three candidates are British Secretary of State for Defense Liam Fox, British Secretary of State for Work and Pensions Stephen Crabb and British Minister of State for Energy Andrea Leadsom.
Comments will be moderated. Keep comments relevant to the article. Remarks containing abusive and obscene language, personal attacks of any kind or promotion will be removed and the user banned. Final decision will be at the discretion of the Taipei Times.