China, US fail to reach consensus over S China Sea
China yesterday promised to rein in steel production flooding global markets and agreed to work with the US in enforcing anti-nuclear sanctions against North Korea, but the two sides ended high-level talks reporting no progress on simmering disputes in the South China Sea.
Envoys from the two sides also failed to agree on what to do about China's aluminum sector, one of many bloated industries Washington and other trading partners complain are selling products too cheaply overseas, hurting foreign competitors and threatening jobs.
The two-day annual US-China Strategic and Economic Dialogue, a meeting of Cabinet-level foreign affairs, trade and other officials, ended with both sides acknowledging an array of significant issues, including human rights.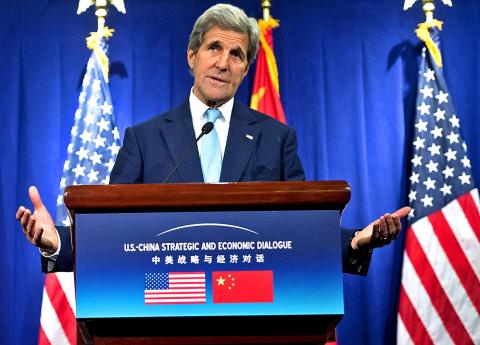 US Secretary of State John Kerry yesterday speaks at a press news at the conclusion of the US- China Strategic and Economic Dialogue in Beijing.
Photo: AFP
However, they repeatedly stressed their desire for friendly, productive relations between the world's two biggest economies.
"While efforts over the past several days cannot resolve our concerns, they do represent real progress," US Secretary of the Treasury Jack Lew said.
Washington promised to boost its savings rate and investment, especially in infrastructure. The US also promised to pursue "fiscal sustainability," a reference to narrowing its yawning budget deficits.
For the first time, China agreed to allow US banks to clear yuan-denominated transactions.
Beijing also concurred there is no reason for a sustained weakening, the yuan, Lew said.
That included a commitment to not engage in "competitive devaluations and not target the exchange rate for competitive purposes," he said.
On the strategic side, US Secretary of State John Kerry pointed to scant concrete progress on sensitive issues ranging from maritime security to North Korea.
"We didn't agree on everything," the top US diplomat said.
"The US-China relationship is absolutely vital,'' Kerry said. "It may well be the most consequential bilateral relationship of nations in the world.''
In the South China Sea, where China and its neighbors have conflicting claims to territory and possible oil and gas resources, Kerry said he "reiterated America's fundamental support for negotiations and a peaceful resolution based on the rule of law, as well as our concern about any unilateral steps by any party."
The governments reaffirmed their commitment to freedom of navigation and overflight, Kerry said.
While the US does not take a position in any of China's maritime disputes, Kerry said the US believes "all of the claimants should exercise restraint."
China's top diplomat, Chinese State Councilor Yang Jiechi (楊潔篪), said Beijing wants to solve disagreements over the region through negotiation.
However, he said such talks should take place among "the countries involved," and by implication not involve the US.
"China has every right to uphold its territorial sovereignty," Yang said.
Kerry also raised the matter of human rights, in particular China's crackdown on lawyers and freedom of religion. He expressed concern about a new law on nongovernmental organizations, urging China to let nongovernmental organizations function across the country.
Comments will be moderated. Keep comments relevant to the article. Remarks containing abusive and obscene language, personal attacks of any kind or promotion will be removed and the user banned. Final decision will be at the discretion of the Taipei Times.