Chen Shui-bian welcomed in Taipei
Surrounded by hundreds of supporters, former president Chen Shui-bian (陳水扁) yesterday received a hero's welcome at his former residence and a fundraising dinner in Taipei.
The crowd burst into cheers when Chen appeared in a wheelchair at elevator doors on the sixth floor of a restaurant where the Ketagalan Foundation held a fundraising dinner.
"Zongtong hao! Zongtong hao!" (總統好, Hello president!), the crowd chanted and applauded while Chen nodded in response.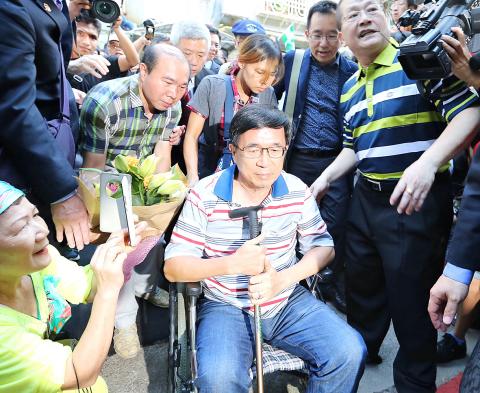 Former president Chen Shui-bian yesterday sits in a wheelchair as he arrives at his former residence on Minsheng E Road in Taipei.
Photo: CNA
Ketagalan Foundation staff escorted Chen to a small room next to, but not connected to, the banquet hall where the event took place.
During the banquet hundreds of people lined up in front of the room waiting to meet Chen.
"He [Chen] looked tired, but seemed very relaxed when meeting his friends and supporters in the room," one man said. "People shook hands with him, told him not to give up and wished him well, he smiled and said: 'Thank you'."
Supporters of former president Chen Shui-bian yesterday wait outside the VIP room at the venue of a Ketagalan Foundation fundraiser event held in Taipei where Chen was to meet with friends.
Photo: CNA
On Chen's departure, a crowd ran out of the banquet hall and took photographs using their smartphones, while others chanted slogans in support of Chen, accusing the judiciary of repressing him.
Chen, who was president from 2000 to 2008, has served more than six years of a 20-year prison term on several convictions for corruption. He was released on medical parole in January last year.
Taichung Prison has ordered Chen not to speak on stage, not to speak to crowds and not to talk to the media, or he would be in violation of his medical parole.
Chen still made a de facto public appearance by taking an escalator from the sixth floor to the fifth floor, and took an elevator from the fifth floor to the ground floor.
As Chen arrived on the fifth floor, hundreds of supporters were waiting, with several minor conflicts breaking out between reporters and Chen's supporters.
Taipei Mayor Ko Wen-je (柯文哲), Tainan Mayor William Lai (賴清德), Kaohsiung Mayor Chen Chu (陳菊) and a number of Democratic Progressive Party legislators also attended the event.
Chen paid a brief visit to his former residence on Mingsheng E Road in Taipei earlier yesterday afternoon, after arriving in Taipei via high-speed rail at 3:54pm.
Prior to his arrival, more than 100 supporters and his former neighbors gathered to greet him, some with bouquets of flowers, others with his portrait and placards.
"I live in Kaohsiung and drove all night to show my support; I have been here since 7am," 46-year-old Lin Hung-yu (林宏宇). "The Chinese Nationalist Party (KMT) government mistreated Chen and his health deteriorated because of the KMT's abuse."
Lin also criticized Minister of Justice Chiu Tai-san (邱太三) for setting restrictions on Chen during his visit.
Chao Chang Yu-chen (趙張玉針), 91, who was being treated at the nearby Chang Gung Memorial Hospital, sat in a wheelchair hoping to greet Chen.
Chao Chang said she felt heartbroken over Chen's treatment after he stepped down as president in 2008.
"I feel heartbroken that he became so sick after being locked up by [former president] Ma Ying-jeou (馬英九) and the KMT," she said.
Chen returned to Kaohsiung last night.
Comments will be moderated. Keep comments relevant to the article. Remarks containing abusive and obscene language, personal attacks of any kind or promotion will be removed and the user banned. Final decision will be at the discretion of the Taipei Times.