Japan searches for quake survivors
Shaken residents of a southern Japanese island rocked by a powerful earthquake that left at least nine dead lined up for water in rubble-strewn streets yesterday, with many facing a second night of uncertainty away from their ruined homes.
Rescuers continued to search through damaged buildings for possible survivors after the violent quake that also injured hundreds, although officials said the death toll was unlikely to rise significantly.
In Taipei, President Ma Ying-jeou (馬英九) sent a letter to Japanese Prime Minister Shinzo Abe to extend the nation's sympathies after the massive earthquake that struck Kumamoto Prefecture on Thursday night, the Ministry of Foreign Affairs said.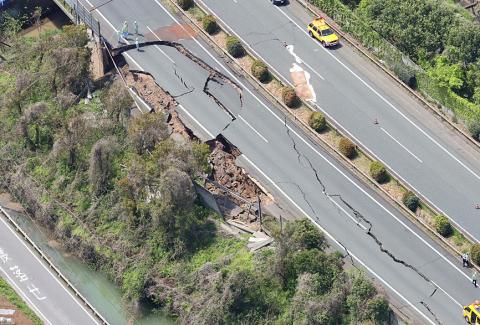 An aerial view shows damaged Kyushu highway in the city of Mashiki, Kumamoto Prefecture, Japan, yesterday.
Photo: AFP/Jiji Press
The letter was forwarded to the Interchange Association, Japan through Taiwan's representative office in Tokyo, the ministry said.
Tens of thousands of people fled their homes after the magnitude 6.5 quake struck the southwestern island of Kyushu, leaving lumps of concrete strewn in the streets.
Houses collapsed, factories stopped work and a high-speed train was derailed, while the roof of the treasured Kumamoto Castle in the southern city of the same name was also damaged.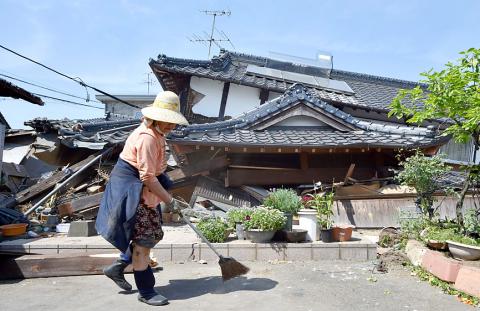 A woman cleans up in front of her collapsed house in the town of Mashiki, Kumamoto Prefecture, Japan, yesterday.
Photo: AFP
"We tried our best to take all our belongings and go to a shelter by car," said Haruki Ito, 62, whose house tilted 45 degrees after the quake.
"Our dogs got so scared and hid themselves inside the collapsed house," he said, adding that he hoped he and his wife could stay in a local shelter with their pets.
Dozens of aftershocks followed the quake, which struck at 9:26pm on Thursday, and officials said the death toll could still rise as rescuers scoured the collapsed structures.
As rescue workers toiled through the night hours after the quake struck, an eight-month-old baby girl was pulled from the rubble alive and unharmed.
"As far as we can tell from infrared images from a police helicopter, there appears to be a significant number of houses destroyed or half-collapsed," Japanese Minister of State for Disaster Management Taro Kono said.
Rescuers were concentrating their searches in Mashiki, near the epicenter of the quake, where eight of the nine deaths occurred.
On the streets, the remains of collapsed houses — many of them aged, wooden structures — could be seen, and damaged roof tiles lay in piles.
A rescue team with several search dogs patrolled around half-collapsed houses in the town, but no new deaths had been announced for more than 14 hours.
Scores of people spent the night huddled in front of Mashiki's town hall, some in tears, while others wrapped themselves in blankets to ward off the night chill.
By yesterday afternoon, the government said it had confirmed that 881 people were injured, at least 52 seriously. An official from the local Kumamoto disaster agency said at least nine were dead.
However, Japanese Chief Cabinet Secretary Yoshihide Suga said at a regular press conference that the death toll was unlikely to sharply increase, but that search operations were continuing just to make sure. He added that Abe plans to visit Kumamoto today to meet victims.
Gen Aoki, a Japan Meteorological Agency seismologist, urged residents to be on guard for more aftershocks and warned that rain in coming days could make the situation worse.
About 24,900 households in Kumamoto have been left without water, according to the government, a big improvement from an earlier figure of about 57,000.
Additional reporting by CNA
Comments will be moderated. Keep comments relevant to the article. Remarks containing abusive and obscene language, personal attacks of any kind or promotion will be removed and the user banned. Final decision will be at the discretion of the Taipei Times.