Township mayor detained over cop's shooting
CHIAYI LOVE TRIANGLE: The Chiayi County Prosecutors' Office said that Wang Kun-hung had used his then-ex-wife's account to wire NT$10 million to the alleged hit man
Jhuci Township (竹崎鄉) Mayor Wang Kun-hung (王焜弘) was detained yesterday in connection with the shooting of a Chiayi City police officer in January, the Chiayi County Prosecutors' Office said.
Wang was arrested on Tuesday night for suspected involvement in the Jan. 29 shooting of officer Lin Chin-chung (林進忠) at Lin's wife's store in the city's East District (東區), allegedly by 57-year-old Liu Jui-tang (劉瑞堂).
The 47-year-old Lin was declared dead at 1am on Jan. 30 at a local hospital.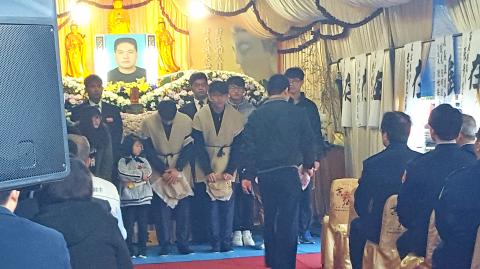 Jhuci Township Mayor Wang Kun-hung, center front, attends police officer Lin Chin-chung's funeral in Chiayi County on Feb. 14.
Photo: Ting Wei-chieh, Taipei Times
The prosecutors' office said that it filed a request for Wang's detention after his arrest and that a court approved the request early yesterday morning.
The office said that an investigation had found that 45-year-old Huang Chun-yuan (黃俊源), Wang's cousin, gave Liu NT$2 million (US$61,824) in Tainan after the shooting. Sources said that the motive for the shooting was Wang's then-ex-wife Kuan Pin-hsiu (官品秀) had sent a nude photograph of herself to Lin.
Earlier reports said Lin reportedly had a close relationship with Kuan Pin-hsiu, who had changed her name to Kuan Chia-yu (官珈羽).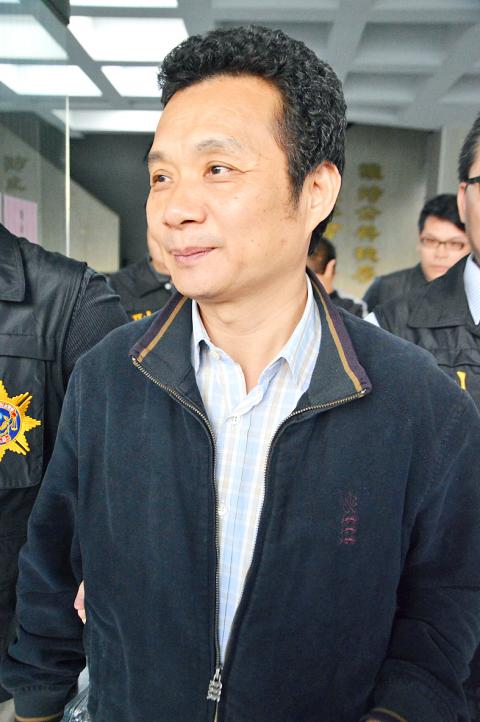 Jhuci Township Mayor Wang Kun-hung smiles at reporters in Taichung on Tuesday.
Photo: Chang Jui-chen, Taipei Times
Wang and Huang have denied the allegations, the office said.
The office said Huang told investigators on Tuesday that Liu was Wang's "muscle" in Taichung, and he was simply doing his cousin a favor by giving money to Liu and that the money had nothing to do with Lin's shooting.
The office said that it had uncovered a monetary trail linked to Wang, who allegedly used his then-ex-wife's account to wire the money to Liu, a lump sum of NT$10 million. The office said it believes that sum was a payment for the shooting.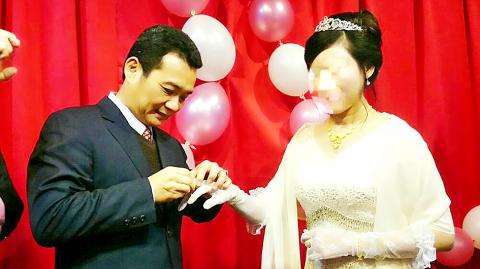 Jhuci Township Mayor Wang Kun-hung puts a ring on Kuan Chia-yu's finger as the couple remarried in Chiayi County on March 15.
Photo: Yu Hsueh-lan, Taipei Times
Huang was also detained after questioning, while another individual, surnamed Luo (羅), was released on bail of NT$30,000, the office said.
Wang and his ex-wife were remarried at the Jhuci Household Registration Office on March 15.
The couple have four children.
Kuan is said to be living at her family's home and could not be reached for comment as of press time last night.
Comments will be moderated. Keep comments relevant to the article. Remarks containing abusive and obscene language, personal attacks of any kind or promotion will be removed and the user banned. Final decision will be at the discretion of the Taipei Times.