Return to MLB is 'dream come true': Wang
Taiwanese pitcher Wang Chien-ming (王建民) on Sunday said that his return to Major League Baseball after an absence of nearly three years was a dream come true.
"I'm just doing my utmost and trying my best to return to the path I chose," Wang said at a news conference at the Kansas City Royals' home stadium, at which he confirmed that he was returning to the majors after his non-roster spring training with the Royals.
Speaking with reporters from Taiwan, the right-hander, who was an ace with the New York Yankees before he was injured in 2008, stressed the importance of being oneself.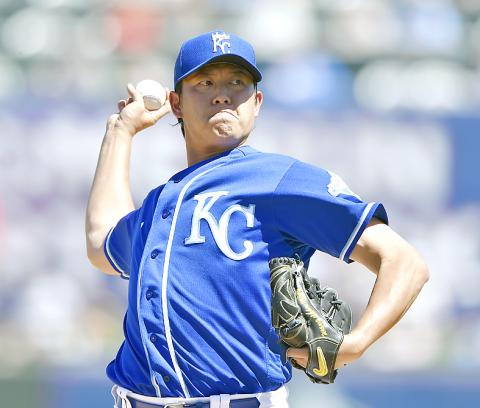 Kansas City Royals pitcher Wang Chien-ming throws during a spring training game against the Oakland Athletics on Saturday last week in Surprise, Arizona.
Photo: John Sleezer / The Kansas City Star via AP
"Be yourself, stick to your own beliefs and realize your own dreams," he said. "Don't give up simply because of what people say. Just carry on."
Wang, 36, was added to the Kansas City Royals' 25-man roster in a surprise pick on opening day, the Kansas City Star reported.
"It's just unreal," Wang told reporters. "Even now, after all I know, it seems unreal to me."
Asked whether he was excited about returning to the major leagues, Wang said his efforts had paid off and he was happy when he was informed on Friday last week of the pick.
"I hope I can use this opportunity to remain in the major leagues," he said.
Wang said that as a relief pitcher, he has to maintain a state of readiness.
The "soft-tossing right-hander made the most of his non-roster invite to the Royals' spring training," producing a 2.40 ERA and a 9-2 strikeout-to-walk ratio over 15 innings, the Kansas City Star said.
"Wang demonstrated a big boost in velocity this spring — he went from 88-89mph [142-143kph] last year in the minors to 94-95mph [151-153kph] this spring, an increase he attributed to a mechanical change in his delivery he learned last off-season at the Texas Baseball Ranch," an article on the Royals Web site read.
"He looks like the same guy I had with the Yankees 10 years ago," Royals pitching coach Dave Eiland was quoted as saying in the article.
Royals manager Ned Yost said it was not a difficult decision to put Wang on the roster.
"Wang is an amazing competitor," Yost said at the news conference. "Wang's presence will make the Royals's bullpen better."
"He'll start out in the bullpen. We really like his sinker," Yost said in the article. "We envision him being a fifth or sixth or seventh-inning guy, especially if we need a double play. He's got a lot of action on that sinker."
Comments will be moderated. Keep comments relevant to the article. Remarks containing abusive and obscene language, personal attacks of any kind or promotion will be removed and the user banned. Final decision will be at the discretion of the Taipei Times.