Trump backflips on abortion slur
SPEEDY CLARIFICATION: The Republican presidential hopeful originally said that abortions should be illegal and that women who get them should be punished
Republican US presidential hopeful Donald Trump is fighting to convince a skeptical Republican Party he can improve his standing among women, even as he takes back an explosive comment about abortion and attacks the credibility of a female reporter police said was illegally grabbed by the party frontrunner's campaign manager.
It took Trump's campaign just hours to backtrack on Wednesday after he said that abortion should become illegal and women who undergo the procedure should face "some sort of punishment."
The plan sparked an immediate backlash from both sides of the debate, prompting Trump to release two statements clarifying his position.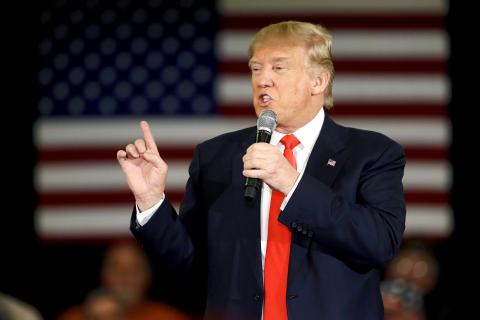 Republican presidential hopeful Donald Trump speaks at a campaign stop Wednesday in Appleton, Wisconsin.
Photo: AP
He then said only those who perform abortions would be "held legally responsible, not the woman."
"The woman is a victim in this case, as is the life in her womb," Trump said.
The flap comes as Trump works to hold off a challenge from chief rival Ted Cruz in Wisconsin's high-stakes primary on Tuesday. With a win, Trump's grasp on his party's presidential nomination could be unbreakable. A loss would give concerned Republican officials across the nation a realistic hope of wrestling the nomination away from the New York businessman at the Republican Party national convention in July.
Frustrated Republicans are privately grappling with fears about Trump's impact on their party's appeal among women and young people, yet few dared criticize the frontrunner directly when pressed this week.
However, Democratic US presidential frontunner Hillary Rodham Clinton addressed Trump's comments on Twitter: "We can't let someone with this much contempt for women's rights anywhere near the White House," she wrote.
Earlier in the week, police in Jupiter, Florida, charged Trump's campaign manager Corey Lewandowski with misdemeanor battery after examining surveillance video of an incident in which a reporter said she was grabbed and shoved.
The police report said the woman's arm revealed "bruising from what appeared to be several finger marks indicating a grabbing-type injury."
"I don't know who created those bruises," Trump said in a sustained effort on Wednesday to defend his adviser and discredit the reporter.
Trump suggested his campaign manager was simply trying to protect him from Michelle Fields, a 28-year-old reporter then working for Breitbart News, who was trying to ask him a question after a March 8 campaign appearance.
"She's got a pen in her arm, which she's not supposed to have, and it shows that she's a very aggressive person who's grabbing at me and touching me," Trump said. "Maybe I should file charges against her."
As Trump assailed Fields from a television studio, Cruz surrounded himself with women as he courted Wisconsin voters. The Texas senator leads the state by nine points among likely voters, according to a Marquette University Law School poll released on Wednesday.
He campaigned in Madison with his wife, mother, two daughters and even the family's nanny in what he called a "celebration of women."
Cruz, an aggressive abortion opponent, later seized on Trump's comments on the delicate social issue.
"Of course we shouldn't be talking about punishing women," he said. "We should affirm their dignity and the incredible gift they have to bring life into the world."
The Marquette poll found that 76 percent of female Wisconsin registered voters have an unfavorable view of Trump, compared with 55 percent for Cruz.
Comments will be moderated. Keep comments relevant to the article. Remarks containing abusive and obscene language, personal attacks of any kind or promotion will be removed and the user banned. Final decision will be at the discretion of the Taipei Times.