Tourists in Brussels reported safe
Taiwanese tourists in Brussels were reported safe after the coordinated terror attacks in the Belgian capital killed at least 34 people and injured more than 200 on Tuesday.
Statistics from the Tourism Bureau showed that there were 97 Taiwanese tourists in Brussels as of yesterday, traveling with three different Taiwanese travel agencies.
Among them, 31 tourists were with Galilee Tours, the bureau said. Southeast Travel Service and Cola Tour had 45 and 21 tourists respectively.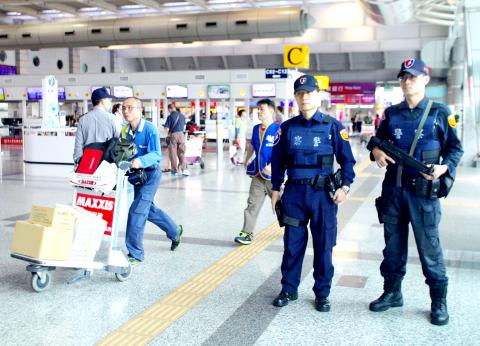 Police stand on duty at Kaohsiung International Airport yesterday.
Photo: CNA
The bureau said that it has told travel agencies organizing tours to Europe to be vigilant about the safety of their customers, adding that tour guides should be told to stay clear of areas under attack.
Tour guides should contact the Taipei Representative Office in Brussels if they need emergency assistance, the bureau added.
As some tourists might decide to cancel their trips to Europe because of the attacks, the bureau said that travel agencies should refund customers after deducting non-refundable fees, as well as the booking fee, which can be no more than 5 percent of the cost of the tour.
People can seek arbitration from the Tourism Bureau and Travel Quality Assurance Association if there are disputes over the tour cancellations, it said.
The Ministry of Foreign Affairs has yet to raise its travel alert for Belgium, which remains "yellow."
The yellow level means that tourists should pay attention to their safety and evaluate whether the trip is necessary.
The ministry said its office in the EU and Belgium had not received reports of casualties involving Taiwanese expatriates.
The ministry said that the Belgian government has issued its highest warning level over security — level 4 — adding that the metro system has been closed following the attacks.
Taiwanese expatriates should avoid public places like shopping centers, convention centers, airports and train stations at this time, the ministry said.
Comments will be moderated. Keep comments relevant to the article. Remarks containing abusive and obscene language, personal attacks of any kind or promotion will be removed and the user banned. Final decision will be at the discretion of the Taipei Times.