UK says bookseller was 'involuntarily removed' to China
Britain yesterday said that a Hong Kong bookseller believed detained by China was "involuntarily removed to the mainland," in its strongest comments yet on a case that has rocked the territory amid fears its promised freedoms are being eroded.
The disappearance of Lee Bo (李波), a major shareholder of Causeway Bay Books (銅鑼灣圖書) who holds a British passport, was a "serious breach" of an agreement signed with Beijing before the territory was handed back to China in 1997, British Foreign Secretary Philip Hammond said in a new report.
Four other men linked to the Mighty Current (巨流) publishing house and its bookstore also disappeared in October last year and Chinese authorities have confirmed that they are now under criminal investigation.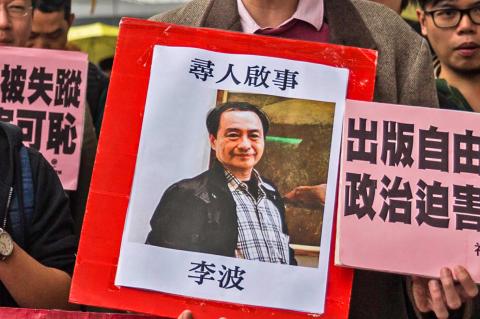 A protester holds up a missing person notice for 65-year-old Lee Bo as a protest walks toward China's Liaison Office in Hong Kong on Jan. 3.
Photo: AFP
There are still question marks over what has happened to Lee, 65, the only one to have disappeared from Hong Kong.
Letters purportedly written by Lee to his wife confirmed he was now in China and said he had gone there of his own volition to help with unspecified investigations.
Lawmakers and activists have accused Chinese authorities of snatching Lee from Hong Kong, contravening the territory's laws which do not allow Chinese police to operate within the territory.
"The full facts of the case remain unclear, but our current information indicates that Mr Lee was involuntarily removed to the mainland without any due process under Hong Kong SAR [special autonomous region] law," said Hammond in a regular six-month report on Hong Kong to the UK parliament.
"This constitutes a serious breach of the Sino-British Joint Declaration on Hong Kong and undermines the principle of 'one country, two systems,' which assures Hong Kong residents of the protection of the Hong Kong legal system," Hammond said.
He said that Britain had called for Lee's immediate return to Hong Kong and had been in communication with the Chinese government "at the highest level."
He urged the authorities in China and Hong Kong to reassure residents that law enforcement "is exclusively the responsibility of the Hong Kong SAR authorities, and that the fundamental rights and freedoms of Hong Kong residents will continue to be fully protected."
Mighty Current general manager Lui Bo (李波), the publishing house's business manager Cheung Jiping (張志平) and bookstore manager Lam Wing-kei (林榮基), all went missing in Shenzhen in October last year, while Gui Minhai (桂民海), a China-born Swedish nation who is co-owner of Mighty Current, vanished from Thailand.
Democratic Party Legislator Albert Ho (何俊仁) said Britain's comments would up the pressure on Hong Kong authorities and Beijing.
Comments will be moderated. Keep comments relevant to the article. Remarks containing abusive and obscene language, personal attacks of any kind or promotion will be removed and the user banned. Final decision will be at the discretion of the Taipei Times.