Mainland police confirm detention of three missing Hong Kong booksellers
Mainland Chinese authorities confirm they have detained three missing Hong Kong booksellers for an investigation into unspecified criminal activity, shedding more light on a case that has gripped residents with fear that Beijing is tightening its hold on the territory.
Hong Kong police said late on Thursday they were told by police in Guangdong Province about the men, who are among five people linked to a publishing house specializing in politically sensitive titles banned on the mainland to have vanished in recent months.
It is the latest development in a case that has sparked international concern that Beijing is backtracking on a promise it made when it took over from the UK nearly 20 years ago to let the territory retain a high degree of control over its own affairs.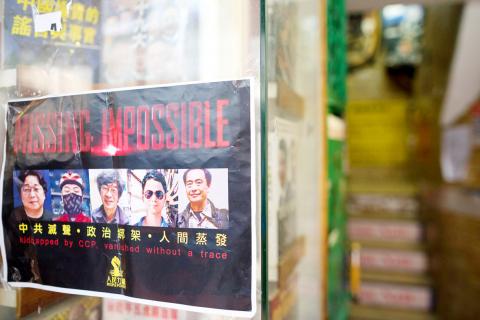 A flyer that reads "Missing: Impossible," with photographs of five missing booksellers, hangs on the entrance to Causeway Bay Bookshop in Hong Kong yesterday.
Photo: EPA
The five are associated with publishing firm Mighty Current Media and its retail outlet, Causeway Bay Bookshop (銅鑼灣書店). The company's books on political scandals and intrigue involving Chinese communist leaders are popular with Chinese visitors to Hong Kong.
The letter from the Guangdong's public security department was the first time that mainland authorities had acknowledged holding Lui Por (呂波), Cheung Chi Ping (張志平) and Lam Wing Kee (林榮基), who are shareholders or employees of the company.
It said the three are suspected of involvement in a case involving a person surnamed Gui (桂), an apparent reference to Mighty Current publisher Gui Minhai (桂民海).
The four went missing in October last year, but Gui resurfaced last month, making a tearful appearance on Chinese state TV to say he surrendered over a 12-year-old fatal drunk driving case.
The three are suspected of being "involved in illegal activities on the mainland," Hong Kong police said, citing a letter from Guangdong Provincial Security Department's Interpol liaison office.
"Criminal compulsory measures were imposed on them and they were under investigation," it said.
No details on the alleged crimes or their specific whereabouts were disclosed.
Gui, a Swedish national, disappeared from his holiday home in Pattaya, Thailand, while the three others went missing in mainland China. Hong Kong police also said they received a handwritten letter from the fifth missing person, editor Lee Bo (李波), in which he purportedly rejected a request to meet with them.
Lee, a British citizen, disappeared on Dec. 30 and many suspect he was abducted by mainland Chinese security agents operating in Hong Kong.
The European Parliament on Thursday called for the five to be immediately released, joining British, US and Swedish officials who have raised concerns over the case.
Comments will be moderated. Keep comments relevant to the article. Remarks containing abusive and obscene language, personal attacks of any kind or promotion will be removed and the user banned. Final decision will be at the discretion of the Taipei Times.