Hon Hai is Sharp's preferred partner, Gou says
NOT TOO FAST: Terry Gou said he expects to have a final agreement on the deal by end February, while Sharp's spokesman said the Japanese firm is still talking to INCJ
Hon Hai Precision Industry Co (鴻海精密) chairman Terry Gou (郭台銘) took a step forward in the hotly contested battle for control of Japan's Sharp Corp, saying he has become the preferred negotiating partner for a bailout of the struggling consumer electronics maker.
Gou spoke outside Sharp headquarters in Osaka, Japan, after a meeting that stretched to nine hours, long past its planned completion. He held up a paper with his signature and that of Sharp CEO Kozo Takahashi, and said he expects to have a final agreement by the end of this month.
"We are 90 percent there, the remaining 10 percent are legal matters and are not a big deal," Gou told reporters, smiling and speaking in Chinese with a Japanese interpreter. "There will be no breakup of Sharp. I guarantee that the Sharp brand will go on."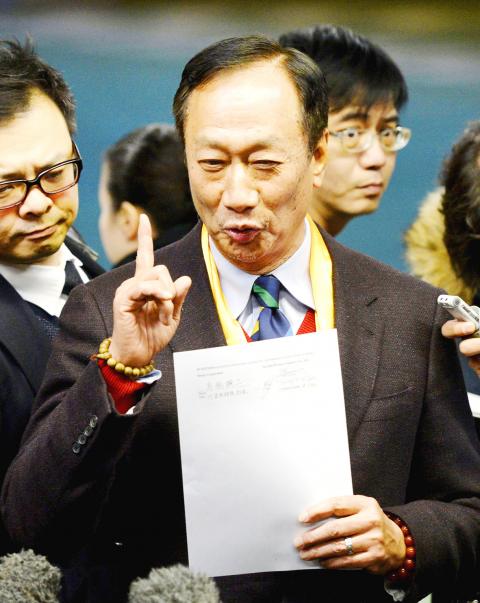 Hon Hai Precision Industry Co chairman Terry Gou speaks to reporters after a meeting with Sharp Corp executives at the Japanese firm's headquarters in Osaka yesterday.
Photo: Reuters, Kyodo News
Gou made the last-minute trip to Japan to step up the pressure on the company to accept his proposed bid, after Takahashi on Thursday said he planned to take another month to choose between Hon Hai, also known as Foxconn Technology Group (富士康) , and the rival bidder, government-backed Innovation Network Corp of Japan (INCJ).
After Gou's comments, Sharp issued a statement saying it had not announced Foxconn was a preferred partner, contradicting his characterization of the agreement.
"There needs to be a board decision to give a preferred negotiating partner status," said Atsushi Yoshida, a spokesman for Sharp. "The board meeting yesterday didn't yield such status and there was no meeting today. We plan to continue our talks with INCJ."
Takahashi told reporters on Thursday that neither of the potential partners is preferred over the other at that point, contradicting several media reports. He was questioned repeatedly about whether one bidder was favored over the other and refused to concede the point.
"Both parties are on the same footing," Takahashi said that day.
A victory for Hon Hai would mark a shift for Japan, where struggling companies have long been protected and supported financially by the government and banks. INCJ helped bail out domestic companies in semiconductors and displays in the past, injecting capital to help management restructure operations.
"It's a bellwether transaction," said Nicholas Benes, representative director of the Board Director Training Institute of Japan, which specializes in directorship and governance training. "Finally the government has decided it just won't do to prefer your own deal over another, particularly when you are spending taxpayers' money."
Gou has pushed hard for a deal even as it looked unlikely he would win. Sharp had been inclined to take the bid from INCJ, which offered about ¥300 billion (US$2.57 billion), people familiar with the matter said last month.
Gou then raised his bid from ¥600 billion to about ¥660 billion and flew to Japan to make a personal appeal to Sharp's board, its banks and government officials, a person familiar with the matter has said.
Gou repeatedly praised Sharp at the press gathering in Osaka. He said Hon Hai's capital would allow the company to invest and return to leadership in LCDs.
"Sharp's young engineers are truly remarkable. There is so much to learn," he said. "Sharp's LCD technology was once cutting edge, but ran out of stamina for investments."
Comments will be moderated. Keep comments relevant to the article. Remarks containing abusive and obscene language, personal attacks of any kind or promotion will be removed and the user banned. Final decision will be at the discretion of the Taipei Times.