New Taiwan dollar rises after surprise BOJ move
The New Taiwan dollar rose against the US dollar yesterday, adding NT$0.143 to close at a three-week high of NT$33.600, as foreign investors moved funds into the region, dealers said.
The losses suffered by the US dollar also came after the Bank of Japan (BOJ) further relaxed its monetary policy after concluding a policymaking meeting yesterday, prompting currency traders to put their money in regional currencies other than the yen, they said.
The NT dollar moved between NT$33.230 and NT$33.640 against the greenback before the close yesterday. Turnover totaled US$1.075 billion during the trading session.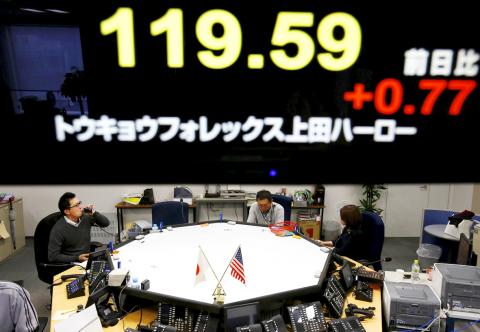 Foreign exchange firm employees work under a screen displaying Japanese yen`s exchange rate against the U.S. dollar at a dealing room in Tokyo, Japan yesterday.
Photo: Reuters
The NT dollar opened higher against the greenback and buying continued after the stock market brushed off early losses to make a strong showing on the back of foreign institutional buying, dealers said.
With foreign investors moving funds into the region, foreign institutional investors bought a net NT$11.42 billion (US$339.88 million) in shares yesterday, sending the TAIEX up by 2.22 percent at the close.
The BOJ adopted a negative deposit interest rate policy as part of its efforts to further relax its monetary policy to boost its economy.
The move, which caught global financial markets off guard, hit the yen and compelled traders in the region to move their funds into other regional currencies, including the NT dollar, as safe havens, dealers said.
In addition, local exporters continued to sell the US dollar in exchange for the NT dollar to meet seasonal fund demand ahead of the Lunar New Year holiday, placing more downward pressure on the greenback, they said.
Seeing the US dollar fall below the NT$33.3 mark, the central bank became active and propped up the greenback, helping the currency recoup some of its earlier losses and slow down the pace of the NT dollar's appreciation to protect Taiwanese exporters, dealers said.
Seasonal fund demand is expected to continue with the approach of the Lunar New Year holiday, which starts on Saturday next week, and the central bank's intervention in support of the US dollar is likely to remain visible, they said.
Comments will be moderated. Keep comments relevant to the article. Remarks containing abusive and obscene language, personal attacks of any kind or promotion will be removed and the user banned. Final decision will be at the discretion of the Taipei Times.