Aid groups urge end to Syria war; West vows to 'crush' IS
More than 100 humanitarian and UN agencies yesterday called for an end to the war in Syria, after Western leaders on Wednesday injected fresh urgency into the fight against the Islamic State group (IS, ISIL), while the Muslim militant group were blamed for raids in Egypt and Libya.
Oxfam, Save the Children, Caritas International, nearly 30 UNICEF branches and others called for an unconditional ceasefire to allow delivery of aid, freedom of movement for civilians, protection of hospitals, schools and water supplies, and the lifting of all sieges.
The agencies invited people around the world to show support for the appeal by sharing it on social media.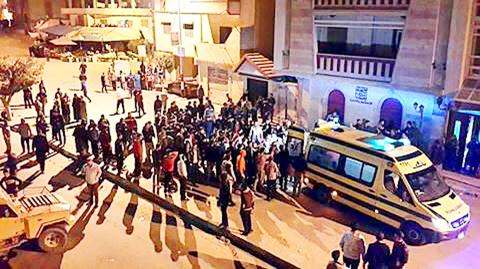 Medics and people gather at the site of attack on a checkpoint in Arish, Egypt, on Wednesday.
Photo: EPA
"More than ever before, the world needs to hear a collective public voice calling for an end to this outrage. Because this conflict and its consequences touch us all," the appeal said.
After meeting with key allies in Paris, US Secretary of Defense Ashton Carter on Wednesday vowed to crush what he called the Islamic State "cancer" by "collapsing its two power centers in Raqqa and Mosul" and combating "the metastasis of the ISIL tumor worldwide."
Russian Minister of Foreign Affiars Sergei Lavrov on wednesday announced Syria peace talks would start "in the next few days" after he met US Secretary of State John Kerry in Zurich, Switzerland.
The meeting in Paris comprised defense ministers from Australia, Britain, France, Germany, Italy, the Netherlands and the US.
Ministers were keen to tout progress in the campaign.
"DAESH is retreating, it is time to increase our joint efforts by implementing a coherent military strategy," French Minister of Defense Jean-Yves Le Drian told reporters, using the Arabic acronym for the militant group's name.
In Libya, oil facilities in the north yesterday were set ablaze as the Islamic State group launched fresh attacks to seize key export terminals, the state oil company and local media said.
"Fighting resumed at dawn on Thursday ... in the Ras Lanouf region," the National Oil Corp said in a statement, referring to a terminal that, along with the nearby Al-Sidra facility, is one of Libya's main oil export hubs.
"Storage tanks filled with crude have caught fire," it said, adding that nearby high-voltage power lines and electrical towers had also been downed.
"The situation in Ras Lanouf is catastrophic for the environment," it said.
The Islamic State claimed its gunmen killed five Egyptian policemen at a checkpoint in the Sinai Peninsula, the Egyptian Ministry of the Interior said.
Additional reporting by AFP
Comments will be moderated. Keep comments relevant to the article. Remarks containing abusive and obscene language, personal attacks of any kind or promotion will be removed and the user banned. Final decision will be at the discretion of the Taipei Times.