Explosion at Muzha incinerator costs worker an eye
Two men were injured yesterday in an explosion at the Muzha Refuse Incineration Plant in Taipei, and one had to have his right eye removed due to injuries, the Taipei Department of Environmental Protection said.
The explosion occurred at about 11am as the pair were placing cartons from the New Taipei City District Prosecutors' Office — labeled as containing documents — into a garbage chute, plant director Wu Wen-yuan (吳文園) said.
The cartons were marked as combustible, but details of their contents were not given, Wu said.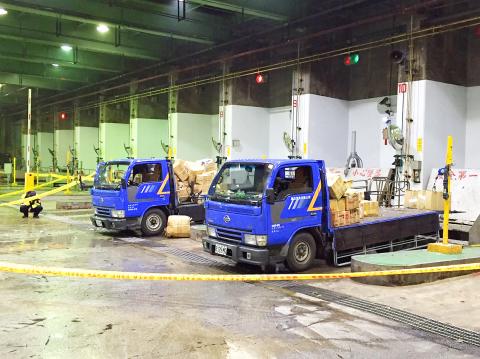 A section of the Muzha Refuse Incineration Plant in Taipei yesterday is cordoned off after two men were injured by an explosion near a trash chute.
Photo: Chiang Hsiang, Taipei Times
It does not appear that the men made any errors in their handling of the cartons, he said.
However, one or more cartons might have contained volatile items and the plant is going to return the remaining cartons to the prosecutors' office, he said, adding that the office should be liable for compensation.
Security footage showed a man unloading a carton from a truck and tossing it toward the garbage chute. The box explodes as soon as it leaves the man's hands, spewing debris across the site and emitting smoke that obscured the camera's lens.
As the smoke dispersed, another man can be seen in the corner of the video, covering one of his eyes and apparently in considerable pain; the first man is no longer in the frame.
Taipei Department of Environmental Protection Commissioner Liou Ming-lone (劉銘龍) said the man who lost an eye was a 64-year-old sanitation worker surnamed Chien (簡).
Chien was taken to the Wanfang Hospital and his right eye had to be removed because debris had penetrated the eyeball, Liou said.
The other man, surnamed Tsai (蔡), is an employee of the prosecutors' office, and was also hospitalized, Liou said.
A checklist from the office said the cartons contained tools and items used by prisoners, Liou said.
Comments will be moderated. Keep comments relevant to the article. Remarks containing abusive and obscene language, personal attacks of any kind or promotion will be removed and the user banned. Final decision will be at the discretion of the Taipei Times.