KMT criticizes Tsai for making a U-turn on US pork imports
The Chinese Nationalist Party (KMT) yesterday criticized Democratic Progressive Party (DPP) presidential candidate Tsai Ing-wen (蔡英文) for flip-flopping on imports of US pork containing ractopamine residues, accusing her of reaching a quid pro quo deal with the US.
"In 2012, the DPP caucus staged a five-day protest at the legislature against the government's plan to lift the ban on US beef imports containing the livestock feed additive ractopamine, demanding zero-tolerance against the use of ractopamine," KMT Culture and Communications Committee director-general Lin Yi-hua (林奕華) told a press conference in Taipei yesterday morning.
Lin said that at the time, several DPP heavyweights visited the legislature to demonstrate their support for the protest, including Tsai, former DPP chairman Su Tseng-chang (蘇貞昌) and former premier Frank Hsieh (謝長廷).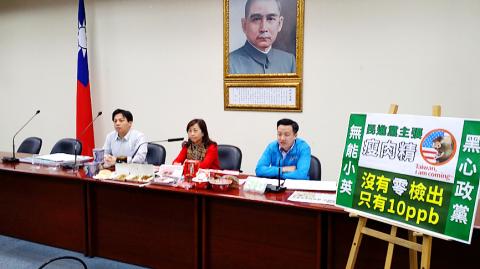 Members of the Chinese Nationalist Party (KMT) hold a press conference yesterday in Taipei to question Democratic Progressive Party presidential candidate Tsai Ing-wen's change of stance on imports of pork containing ractopamine residue.
Photo: Shih Hsiao-kuang, Taipei Times
However, following a meeting with US Trade Representative officials during her June visit to the US, Tsai's attitude on the issue of US pork imports took a complete U-turn, Lin said.
"Has Tsai reached some kind of agreement with the US? Did she sell out Taiwan?" Lin asked, urging Tsai to explain the apparent shift in her stance.
Lin made the remarks following the first televised presidential debate on Sunday, during which the three candidates were asked whether they agreed with the US' condition that Taiwan allows imports of US pork in exchange for its inclusion in the Trans-Pacific Partnership.
Tsai said she would use Japan's and South Korea's legal limits on the amount of the leanness-enhancing feed additive as a reference, as the two nations have similar eating habits.
The DPP chairperson later at a post-debate news conference downplayed reporters' questions on whether her comments hinted at a plan to lift the import ban, adding it was too early to say.
KMT Culture and Communications Committee deputy director-general Lee Ming-hsien (李明賢) said medical research has established a link between heavy consumption of ractopamine and increased risk of cardiovascular diseases.
"Tsai has pledged to protect people from any fear about food safety, but now the DPP is planning to open the door to ractopamine-laced US pork. Given that many meat products in Taiwan still fail to print their places of origin on the labels, how would people be able to eat at ease?" Lee said.
Lee urged the DPP to hold a national affairs conference to deliberate the issue.
KMT presidential candidate Eric Chu's (朱立倫) campaign spokesman Lee Cheng-hao (李正皓) said about 5.2kg of beef and 34.2kg of pork are consumed per person per year in Taiwan, while the pork consumption per person in Japan and South Korea is just two times the beef intake.
"Taiwanese also have a tendency to eat pig viscera, where ractopamine is most likely to accumulate. That is why we oppose adopting Japanese and South Korean safety standards for ractopamine," Lee Cheng-hao said.
Taiwan relaxed its ban on US beef imports containing ractopamine residue in July 2012 after the issue stalled Trade and Investment Framework Agreement talks between Taipei and Washington.
Comments will be moderated. Keep comments relevant to the article. Remarks containing abusive and obscene language, personal attacks of any kind or promotion will be removed and the user banned. Final decision will be at the discretion of the Taipei Times.