ASE launches tender offer to increase stake in SPIL
Advanced Semiconductor Engineering Inc (ASE, 日月光半導體) yesterday launched a second tender offer to acquire an additional 24.7 percent stake in rival Siliconware Precision Industries Co (SPIL, 矽品精密) for NT$42.35 billion (US$1.28 billion), stepping up its buyout bid.
The transaction would increase the stake ASE — the world's largest chip packager and tester — holds in SPIL from 25 percent to 49.71 percent, the company said in a statement.
Acquiring half of SPIL would allow ASE to fully absorb the company.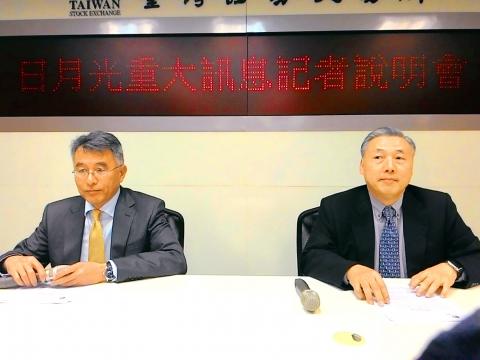 Advanced Semiconductor Engineering CEO Tien Wu, right, and CFO Joseph Tung attend a news conference in Taipei yesterday, announcing the launch of a second round of tender offer to acquire another 24.7 percent stake in rival Siliconware Precision Industries.
Photo: CNA
ASE is said to be mulling a complete acquisition of SPIL, with plans to reshuffle its board next year.
"It is clear that industry consolidation is a trend… A full acquisition is our goal. This second tender offer will help us boost our stake in SPIL and also shows our determination to complete a deal," ASE chief operating officer Tien Wu (吳田玉) told a media briefing.
SPIL's management team has been resisting ASE's acquisition proposals and taking drastic measures at the expense of shareholders' interests to block an ASE takeover, ASE chief financial officer Joseph Tung (董宏思) said.
ASE's latest move came as SPIL is set to seek shareholder support for a new strategic cooperation agreement with Tsinghua Unigroup Inc (清華紫光), in which it would sell a 25 percent stake to the Chinese firm during an extraordinary meeting on Jan. 28 next year.
SPIL agreed to sell new common shares at NT$55 per share to Tsinghua Unigroup after its first attempt to thwart ASE's takeover by forming an alliance with Hon Hai Precision Industry Co (鴻海精密) in a NT$35 billion share-swap deal was rejected by shareholders.
Last week, ASE made an outright acquisition offer to SPIL following the announcement of the SPIL-Tsinghua deal.
The second tender offer is expected to take place between Tuesday next week and February next year. ASE offered to buy 770 million SPIL shares at NT$55 each, the same price offered to Tsinghua. The price is higher than the NT$45 per share ASE offered in its first tender offer in August and September.
The offer represents a premium of about 9.78 percent compared with SPIL's closing price of NT$50.1 yesterday.
"The two deals [with Tsinghua and Hon Hai] will dilute shareholders' equity and interest" by issuing new shares, Tung said.
The new offer from ASE would only prove successful if ASE buys 5 percent of the shares planned. In addition, the acquisition would need approval from the nation's competition watchdog, the Fair Trade Commission, ASE said.
ASE would hold a combined 15 percent of the world's chip packaging and testing market after absorbing SPIL, Tung said.
ASE plans to fund the new tender offer mostly through a syndicated bank loan and partly using its own capital, Tung said.
"We do not see any justification for ASE to absorb SPIL and delist SPIL from the local stock market," SPIL said in a statement. "The combination of ASE and SPIL would have a tremendous impact on the industry. We do not see any benefits from a hostile merger."
ASE said SPIL would become private after the acquisition is completed.
Comments will be moderated. Keep comments relevant to the article. Remarks containing abusive and obscene language, personal attacks of any kind or promotion will be removed and the user banned. Final decision will be at the discretion of the Taipei Times.