Buzz over Apple's low-key presence in Hsinchu park
'SECRET LAB': The Longtan facility is reportedly working on new display technologies for the US firm. The Hsinchu Science Park Bureau yesterday confirmed Apple's presence
Apple Inc has opened a production laboratory in northern Taiwan where engineers are developing new display technologies, according to people with knowledge of the facility.
The Apple building in Taoyuan's Longtan District (龍潭) has at least 50 engineers and other workers creating new screens for devices, including iPhones and iPads, the people said, asking not to be identified because the details are not public.
Apple has recruited from local display maker AU Optronics Corp (友達) and Qualcomm Inc, which used to own the building, the people said.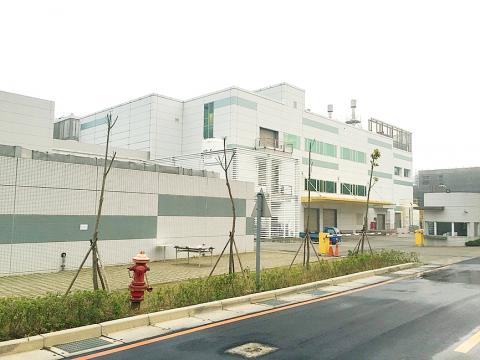 Apple Inc's lab in Taoyuan's Longtan Distict is pictured yesterday.
Photo: CNA
Kristin Huguet, a spokeswoman for Apple in Cupertino, California, declined to comment.
Apple began operating the lab this year as it aims to make products thinner, lighter, brighter and more energy-efficient. Engineers are developing more-advanced versions of the liquid-crystal displays currently used in iPhones, iPads and Mac personal computers, the people said.
Apple also is keen to move to organic light-emitting diodes, which are even thinner and do not require a backlight, they said.
By working directly on the development of display technologies, Apple can reduce reliance on suppliers such as Samsung Electronics Co, LG Display Co, Sharp Corp and Japan Display Inc.
Shares of AU Optronics surged as much as 4.7 percent in Taipei trading yesterday. Japan Display dropped 2.8 percent in Tokyo and Sharp fell as much as 1.6 percent.
Apple does the bulk of its research at its headquarters in Cupertino and outsources the manufacturing of almost all devices and components to suppliers such as Foxconn Technology Group (富士康) and Japan Display. It also employs scientists and engineers globally to develop materials and manufacturing technologies.
Tucked in a corner of Hsinchu Science-based Industrial Park (新竹科學園區), between a forest and the building site for a new biotechnology factory, the structure shows no outward indications of belonging to the world's most valuable company.
Fifty kilometers from downtown Taipei and within an hour's drive of the Foxconn headquarters, the white-tiled factory displays no corporate signage, a stark contrast to neighboring plants emblazoned with meter-high logos for Leotek Electronics Corp (光林電子), Taiwan Semiconductor Manufacturing Co (TSMC, 台積電) and AU Optronics.
A short driveway, a half-dozen steps and sliding glass doors lead to a counter and a receptionist in front of an Apple logo on the wall. That sign, and an iMac displaying Apple's standard visitor registration screen, are the only visible indicators Apple resides here.
The receptionist would not provide the name or contact details for someone who could talk about the facility.
Records from the Hsinchu Science Park Bureau show Apple moved into the factory in April and that Qualcomm Panel Manufacturing Ltd had occupied the site from 2008.
Records from the Ministry of Economic Affairs show Apple last amended its Taiwanese registration in October. The form now shows the Longtan address, changed from an earlier listing in Taipei, as the headquarters of Taiwan Apple LLC. The site was where Qualcomm tried to develop its own displays called Mirasol.
On Monday, a small group of workers with Apple ID badges around their necks stepped off the property for a smoking break amid the hum of industrial filters. They declined to comment on the building's purpose and what they are working on.
However, the bureau yesterday confirmed that Apple had opened a research and development laboratory in the park.
"Apple applied to create an organization in Longtan in November last year, which the administration approved," bureau Deputy Director-General Chang Chin-feng (張金豐) told the Taipei Times by telephone.
Additional reporting by staff reporter Lisa Wang
Comments will be moderated. Keep comments relevant to the article. Remarks containing abusive and obscene language, personal attacks of any kind or promotion will be removed and the user banned. Final decision will be at the discretion of the Taipei Times.