Mustard gas use in the Syrian conflict confirmed by source
Mustard gas was used during summer fighting in Syria, but it was not clear by whom, the global chemical weapons watchdog said on Thursday, while militants seized a key town from regime forces.
The deadly gas was used in the flashpoint town of Marea in the northern province of Aleppo on Aug. 21, a source from the Organisation for the Prohibition of Chemical Weapons said.
"We have determined the facts, but we have not determined who was responsible," the source said.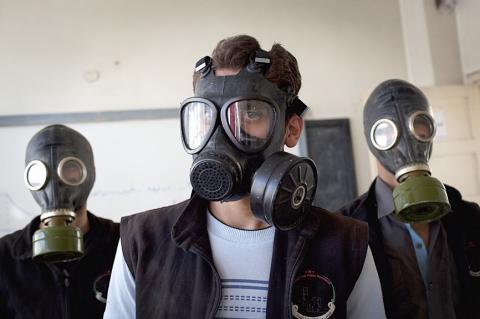 Volunteers wear gas masks during a class on how to respond to a chemical attack in Aleppo, Syria, on Sept. 15, 2013.
Photo: AFP
Allegations that militants have been using chemical arms have been increasing in recent months in both Iraq and Syria.
Syrian rebels and aid groups said that at the end of August dozens of people were affected by a chemical attack on Marea, where moderate opposition rebels and militants from the Islamic State group were battling.
Medecins Sans Frontieres (MSF) said it had treated four civilians from one family. Patients at an MSF hospital in Aleppo said they saw a "yellow gas" when a mortar round hit their house.
Meanwhile, bolstered by a Russian air campaign launched in September, Syrian President Bashar al-Assad's forces have been fighting to retake territory lost to rebels in the nation's brutal four-year war, but have failed to make significant gains.
On Thursday a militant faction, Jund al-Aqsa, was reported to have seized the last government-held town on the main highway between Syria's second city Aleppo to the north and the city of Hama to the south.
They "seized full control of the town of Morek after a fierce offensive," said the Syrian Observatory for Human Rights, a Britain-based monitoring group.
Jund al-Aqsa boasted of the victory in Morek on its Twitter account, but a Syrian security source insisted fighting was ongoing and denied a major setback.
Morek has changed hands several times in the conflict, with government troops last retaking it in October last year.
Last month, Syrian troops launched a major fightback in Hama province with Russian air support, with the main Aleppo highway a main objective.
It was one of a number of counteroffensives the Damascus regime has launched since Moscow intervened.
Regime forces scored a rare win on Wednesday, recapturing from Islamic State an alternative route further east that provides the government's sole link to neighborhoods of Aleppo under its control.
Advancing Islamic State forces had severed the road last month, cutting off food and supplies to tens of thousands of civilians in the west of Aleppo. For the first time since Islamic State had cut the road, trucks of fruits and vegetables arrived in regime-held neighborhoods of the city, residents said.
Islamic State has continued advancing in various parts of Syria, despite the Russian airstrikes and more than a year of air raids targeting the group by a US-led coalition.
On Thursday, the observatory said that at least 22 civilians were killed along with several Islamic State fighters in air raids on the Syrian town of Bukamal, near the Iraqi border, but did not say which nation carried out the strikes.
Russia said its air force carried out strikes near the Islamic State-held ancient city of Palmyra, bringing to 263 the number of targets Russian jets have hit in the past two days.
Comments will be moderated. Keep comments relevant to the article. Remarks containing abusive and obscene language, personal attacks of any kind or promotion will be removed and the user banned. Final decision will be at the discretion of the Taipei Times.