Death toll hits 339 in quake-hit Afghan, Pakistani regions
INACCESSIBLE AREAS: A Pakistani National Disaster Management Authority official said that the full extent of damage and casualties is still unknown
Rescuers yesterday were struggling to reach quake-stricken regions in Pakistan and Afghanistan as officials said the combined death toll from Monday's earthquake rose to 339.
Afghan and Pakistani officials said 258 people died in Pakistan and 78 in Afghanistan in the magnitude 7.5 quake, which was centered deep beneath the Hindu Kush mountains in Afghanistan's sparsely populated Badakhshan Province that borders Pakistan, Tajikistan and China.
Afghan authorities were scrambling to access the hardest-hit areas near the epicenter, located 73km south of Fayzabad, the capital of Badakhshan Province.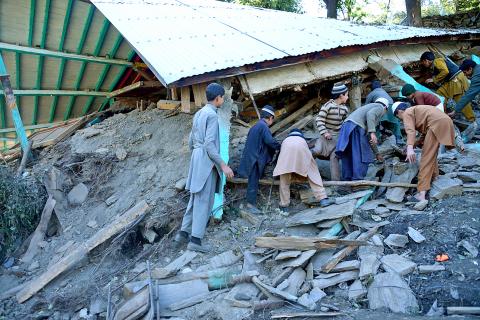 Pakistani residents search for victims in the rubble of collapsed houses in the quake-hit village of Gandao around 20 kilometers from Shangla in Pakistan's Khyber Pakhtunkhwa province yesterday.
Photo: AFP
In Pakistan, the Swat Valley and areas around the towns of Dir, Malakand and Shangla in the mountains of Khyber Pakhtunkhwa Province were also hard-hit in the quake. The Pakistani town closest to the epicenter is Chitral, while on the Afghan side it is the Jurm District of Badakhshan.
More than 2,000 people were injured in Monday's temblor, which also damaged nearly 4,000 homes in Pakistan, officials said.
Afghan Ministry of Health and Welfare spokesman Ismail Kawusin said the numbers gathered so far from hospitals in various Afghan provinces recorded 466 injured. Earlier Afghan Minister of Disaster Management Wais Ahmad Barmak said 78 people were dead and 266 had been injured.
Badakhshan Governor Shah Waliullah Adeeb said that 13 districts in the province had been affected, with more than 1,500 houses either destroyed or partially destroyed.
In his province alone, casualty figures of 11 dead and 25 injured "will rise by the end of the day, once the survey teams get to the remote areas and villages," Adeeb said.
Helicopters were needed to reach the most remote villages, many inaccessible by road at the best of times, he added. Now, landslides and falling rocks have blocked the few existing roads. Food and other essentials were ready to go, but "getting there is not easy," he said.
Badakhshan is one of the poorest regions of Afghanistan, despite vast mineral deposits. It is often hit by earthquakes, but casualty figures are usually low because it is so sparsely populated, with less than 1 million people spread across its vast mountains and valleys. It also suffers from floods, snowstorms and mudslides.
The casualties and the extent of the damage were still being assessed, Pakistani National Disaster Management Authority spokesman Ahmad Kamal said. Bajur tribal region bordering Afghanistan was also affected by the quake, with dozens of homes damaged in other tribal regions.
Pakistani helicopters and military planes were being used to transport relief supplies and military engineers were working on restoring communication lines disrupted by landslides triggered by the quake, army spokesman Lieutenant General Asim Saleem Bajwa said.
Comments will be moderated. Keep comments relevant to the article. Remarks containing abusive and obscene language, personal attacks of any kind or promotion will be removed and the user banned. Final decision will be at the discretion of the Taipei Times.