Taiwan calls for peace, respect in South China Sea
Taiwan yesterday called for a peaceful resolution of territorial disputes in the South China Sea, following reports of a US warship patrolling within 12 nautical miles (22.2km) of artificial islands built by China.
Taiwan would like to see all parties concerned adopt conduct that would contribute to regional peace and stability, Ministry of Foreign Affairs spokesperson Eleanor Wang (王珮玲) said in response to media queries about the reported US Navy mission.
International wire agencies earlier in the day reported that the US Navy had sent a guided-missile destroyer within 12 nautical miles of an artificial island built by China on the Subi Reef (Jhubi Reef, 渚碧礁) in the Spratly Islands (Nansha Islands, 南沙群島).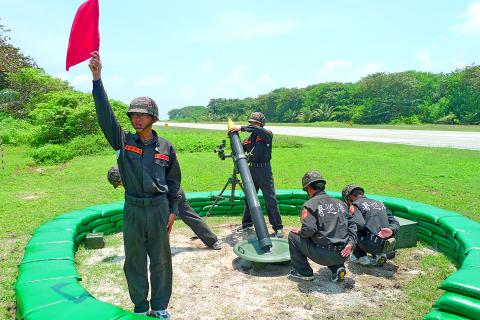 Coast Guard Administration officers perform a drill on Itu Aba Island (Taiping Island) in the Spratly Islands (Nansha Islands) on Aug 31.
Photo: Lo Tien-pin, Taipei Times
Quoting an unnamed US official, Reuters reported that the US Navy patrol was "a challenge to China's territorial claims in the area."
In her statement, Wang called on all concerned not to raise tensions in the region and to resolve disputes by peaceful means.
The government would be pleased to see all sides behaving in ways that would contribute to regional peace and stability, she said.
Wang said Taiwan also hopes the parties involved would show respect for the principles and spirit of the relevant international laws, including the UN Charter and the UN Convention on the Law of the Sea.
Under the latter, territorial waters are defined as an area extending, at most, 12 nautical miles from the low-water mark of a coastal state and are regarded as the sovereign territory of that state. However, the UN law states that foreign vessels, both military and civilian, are allowed innocent passage through territorial waters.
Wang reiterated Taiwan's territorial claim to the Spratly Islands, Paracel Islands (Xisha Islands, 西沙群島), Macclesfield Bank (Zhongsha Islands, 中沙群島) and Pratas Islands (Dongsha Islands, 東沙群島) and their surrounding waters.
Whether from the perspective of history, geography or international law, the islands are an inherent part of the Republic of China's (ROC) territory and waters, Wang said.
"The Republic of China enjoys all rights over them in accordance with international law," she said. "The ROC government does not recognize the right of any country to claim or occupy them for any reason or by any means."
The ROC is ready to conduct dialogue with the parties concerned on the basis of equality and mutual benefits, to turn the South China Sea into a "Sea of Peace and Cooperation," Wang said.
Comments will be moderated. Keep comments relevant to the article. Remarks containing abusive and obscene language, personal attacks of any kind or promotion will be removed and the user banned. Final decision will be at the discretion of the Taipei Times.