Yeh lying about check: legislator
Democratic Progressive Party (DPP) Legislator Chen Chi-mai (陳其邁) yesterday accused former minister of transportation and communications Yeh Kuang-shih (葉匡時), who was also an adviser to Deputy Legislative Speaker Hung Hsiu-chu's (洪秀柱) presidential campaign team, of lying when he said the KMT secretary-general had on Oct. 5 offered to give Hung NT$30 million (US$922,708) to support her now-ended bid.
Yeh wrote a clarification on Facebook denying "the rumor alleging that KMT Secretary-General Lee Shu-chuan (李四川) had asked [Yeh] to give Hung a check for NT$30 million for Hung to step down as the KMT's presidential candidate."
He said that while Hung had promised not to receive financial aid from party headquarters for her campaign, "as the campaign intensified, the team was indeed short of donations."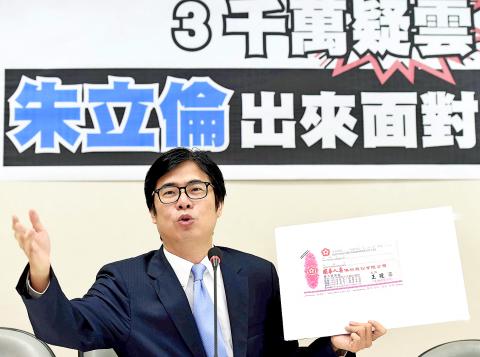 Democratic Progressive Party Legislator Chen Chi-mai yesterday in Taipei demands that Chinese Nationalist Party (KMT) Chairman Eric Chu explain the usage of the NT$30 million donated by KMT Secretary-General Lee Shu-chuan to former KMT presidential candidate Hung Hsiu-chu's campaign.
Photo: Chu Pei-hsiung, Taipei Times
"Hung and I discussed the issue with party headquarters several times and came to the conclusion that Hung's office would first borrow funding from the headquarters, which would be returned after the elections through public subsidies available to presidential candidates," Yeh said.
"Lee handed me a check for NT$30 million on Oct. 5, made payable to Hung's political donation account and which had to be signed by Hung herself. However, I returned the check [to party headquarters] later that day after Hung said she would take it only after her candidacy was made secure and not challenged," he said.
Chen accused Yeh of trying to collude over the Internet with those involved to devise a consistent explanation to be offer to prosecutors.
The legislator questioned the idea of KMT headquarters offering NT$30 million as campaign subsidy to Hung on Oct. 5, "when it was already decided on Sept. 25 by the KMT's top echelons that Hung was to be replaced and on Oct. 3 Chu had asked Hung to be his running mate and KMT CSC member Chiang Shuo-ping (江碩平) said he would raise a proposal to replace Hung."
According to the Political Donations Act (政治獻金法), candidates must transfer their unspent donations to the state if they fail to register as candidates.
"How is it possible that the KMT made the check payable to Hung's political donation account when it knew that Hung was to be replaced, which would be tantamount to throwing money away?" Chen asked.
Chen called on the Special Investigation Division to keep the check 's stub and related recording files, as "Yeh's confession has proven that there was indeed a quid pro quo scheme," adding that he suspected that the check had not been made out as payable to Hung's donation account until the KMT officials were summoned by the Special Investigation Division on Wednesday.
Comments will be moderated. Keep comments relevant to the article. Remarks containing abusive and obscene language, personal attacks of any kind or promotion will be removed and the user banned. Final decision will be at the discretion of the Taipei Times.