Angela Merkel says migration benefits greater than risks
German Chancellor Angela Merkel says the potential benefits resulting from the influx of migrants and refugees far outweighs any dangers.
Merkel yesterday told German lawmakers that "the opportunities are much bigger than the risks, we just have to recognize and use them."
She spoke hours after EU leaders in Brussels agreed a series of measures to tackle a crisis that has seen hundreds of thousands of people stream into the continent.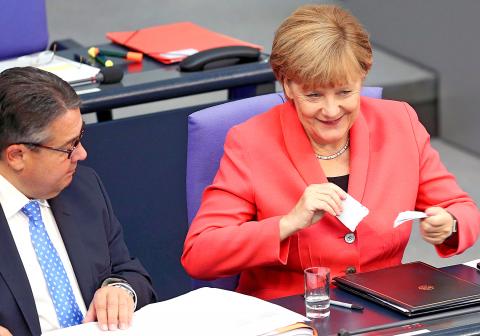 German Chancellor Angela Merkel, right, tears up papers in the Bundestag in Berlin yesterday.
Photo: EPA
Merkel said the bloc still needs to agree a "permanent system for a fair distribution of refugees across member states."
Seeking to reassure state governors, whom she is meeting with later in the day, Merkel said Germany can meet the challenges.
"Who — if not we — has the strength to do so," she said.
EU leaders early yesterday managed to agree to boost border controls to manage the influx and to send 1 billion euros (US$1.1 billion) to international agencies helping refugees at camps near their home countries.
The leaders also said that task forces of European experts sent to help register and screen migrants in so-called hotspots must be fully operational in Greece and Italy, and perhaps also Bulgaria, by November.
"The measures we have agreed today will not end the crisis. But they are all necessary steps in the right direction," European Council President Donald Tusk said at the conclusion of the more than seven-hour meeting.
Hungarian Prime Minister Viktor Orban said after the meeting that he was willing to consider allowing the refugees to go through to other destinations.
With thousands streaming to the Balkans, tensions have risen between Serbia and Croatia.
Serbia yesterday banned imports of Croatian goods to protest the closure of the border to cargo traffic, which has cut Serbia off from its main trading partners in Europe. Croatia retaliated by barring vehicles with Serbian license plates from entering the country.
"I planned to open the border tomorrow [yesterday], but now I won't," Croatian Prime Minister Zoran Milanovic said in Brussels after Serbia retaliated. "We have to react to this now."
Croatia shut all but one of its crossings with Serbia to block the migrant surge. It is angry that Serbia is busing refugees to its border, rather than sending them north to Hungary.
"What we've asked [for] from the day one ... is to avoid the situation where thousands of people enter through the crossing, which is not manned by a single Serbian policeman and no one controls it," Croatian Minister of the Interior Ranko Ostojic said.
Meanwhile, Austria's interior minister said her nation has sent back more than 5,000 refugees to EU countries that they had crossed on their way to Austria.
Additional reporting by Reuters
Comments will be moderated. Keep comments relevant to the article. Remarks containing abusive and obscene language, personal attacks of any kind or promotion will be removed and the user banned. Final decision will be at the discretion of the Taipei Times.