OECD says Europe must act quickly as 1 million refugees expected this year
Europe can expect a record 1 million people to request asylum this year as refugees flee war in Syria and Iraq in droves, and EU leaders must set their differences aside to meet the challenge, the Organisation for Economic Co-operation and Development (OECD) said yesterday.
Almost half of that million are likely to qualify for asylum, it said.
The plea from the Paris-based OECD, an agency which offers policy advice to the primarily wealthy countries that fund it, came as EU interior ministers sought yet again to agree on a share out plan covering 120,000 refugees, at talks in Brussels.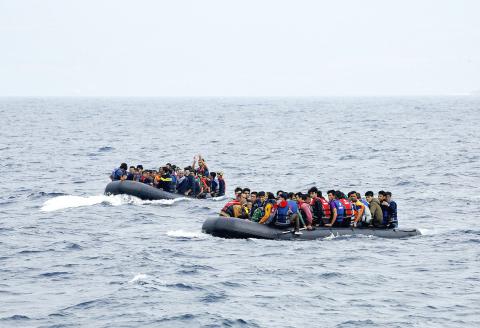 Syrian refugees and other migrants yesterday arrive at a beach on the Greek island of Lesbos in overcrowded dinghies after crossing a part of the Aegean Sea from the Turkish coast.
Photo: Reuters
"Europe's leaders must take a historic stand in the face of this humanitarian tragedy," OECD Secretary-General Angel Gurria said.
The organization published a report saying Europe had the capacity and the obligation to accommodate an unprecedented wave of refugees that was even bigger than the one sparked by the 1990s breakup of the former Yugoslavia.
Failure to agree on a joint emergency plan and couple it with a revamped long-term policy on integration of migrants could fuel xenophobia that might partly explain EU governments' inaction to date, the OECD report said.
Europe is better equipped to deal with the influx now than when refugees fled the wars of old Yugoslavia, but less affluent countries like Poland, Hungary and Bulgaria need financial aid from EU partners to cope, the report said.
There must be a faster processing of asylum requests as well as an agreed share out of refugees across EU countries, it said.
Germany has said it would likely take 800,000 asylum seekers, but European Commission plans for a distribution of 120,000 across the 28 EU countries over the next two years have exposed deep divisions between EU members, with stiff resistance from several eastern EU countries, such as Hungary, not used to notable multicultural immigration unlike in the west.
The OECD said latest data showed more than 330,000 migrants arrived by sea in Europe in the first eight months of this year, including 210,000 in Greece and 120,000 in Italy.
A half-million illegal border crossings have been detected in the same period, almost double the level over the whole of last year.
While the immediate priority is handling refugees from war zones, rich countries must adapt migration policy to a broader trend where one in 10 migrants to OECD countries is from China and almost one in 20 from India, the OECD said.
Meanwhile, UN High Commissioner for Refugees (UNHCR) Antonio Guterres yesterday called for European states to show solidarity in their response to the continent's worst migration crisis since World War II.
"There is no way to resolve a crisis of this dimension if each country acts alone and based solely on its own interests," he told Portuguese broadcaster RTP.
EU ministers last week formally approved a plan first floated in May to relocate 40,000 refugees from Greece and Italy.
The UNHCR has estimated that at least 200,000 relocation spots would be needed by the end of next year, and spokeswoman Melissa Fleming yesterday said that number would likely need to be revised upward.
"We believe this may be the last opportunity for a coherent European response to manage a crisis," she told reporters in Geneva, Switzerland.
Comments will be moderated. Keep comments relevant to the article. Remarks containing abusive and obscene language, personal attacks of any kind or promotion will be removed and the user banned. Final decision will be at the discretion of the Taipei Times.