Xi voices confidence in China's direction
SORT OF INTERVIEW: The 'Wall Street Journal' gave its questions to the Ministry of Foreign Affairs, where the answers were 'researched' before Xi Jinping 'revised' them
Chinese President Xi Jinping (習近平) compared China's economy to a giant ship sailing in stormy seas, the Wall Street Journal (WSJ) reported yesterday, but Xi was confident it was moving in the right direction.
Xi, who began his first state visit to the US yesterday, said a long-term view was essential to understanding the world's second-largest economy as he seeks to ease global worries over its performance.
"If you liken it to a large ship on the sea, the question you ask is whether it is sailing in the right direction, does it have sufficient engine power and energy to stay long," he said, part of lengthy written responses to questions submitted by the newspaper.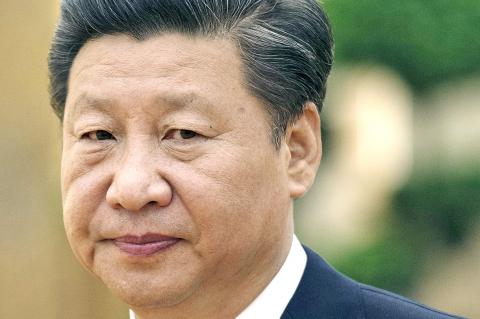 Chinese President Xi Jinping waits before a meeting with US National Security Advisor Susan Rice at the Great Hall of the People in Beijing on Aug. 28.
Photo: AFP
"Any ship, however large, may occasionally get unstable sailing on the high sea," he said, adding he was confident investor confidence would be restored.
"Against the overall global economic backdrop, many countries have encountered difficulties," he said. "The Chinese economy is also under a downward pressure. But it is a problem in the course of progress."
"The Chinese economy is still operating within the proper range," Xi said.
He also defended government actions to prop up plunging share markets, widely seen by analysts as having failed.
"The Chinese government has taken some measures to defuse systemic risks," he said. "Such steps have proved successful."
The WSJ said that it submitted its questions to the Chinese Ministry of Foreign Affairs and officials "pulled together facts and research for the answers," the paper said, before Xi "revised and reviewed them."
Xi reiterated that China and its rising defense capabilities — including anti-ship ballistic missiles — do not pose a regional or global threat.
He also explicitly denied foreign allegations that Beijing steals corporate information online "in any form," or encouraged Chinese companies to do so.
"Cybertheft of commercial secrets and hacking attacks against government networks are both illegal; such acts are criminal offenses and should be punished according to law and relevant international conventions," he said.
His comments came one day after US National Security Advisor Susan Rice issued a stern warning to Beijing that state-sponsored cyberespionage must stop, calling it a national security concern and a critical factor in US-China relations.
"This isn't a mild irritation, it's an economic and national security concern to the United States," Rice said during remarks at The George Washington University in Washington.
"It puts enormous strain on our bilateral relationship, and it is a critical factor in determining the future trajectory of US-China ties," she said.
Rice also said the US would insist on maintaining freedom of navigation and commerce through busy sea lanes in disputed areas of the South China Sea.
Xi told the WSJ that China's development of facilities on the disputed Spratly Islands (Nansha Islands, 南沙群島) do not impact upon or target any other country, and "should not be overinterpreted."
Rice said Obama would be direct with Xi on those issues and disagreements over human rights at their meetings later this week.
Asked about Chinese restrictions on the Internet as well as a proposed law to restrict foreign non-profit organizations, Xi emphasized the need to balance the flow of information with legal norms.
"Freedom and order must be upheld side by side in both cyberspace and the physical world," he said. "Freedom is the purpose of order, and order the guarantee of freedom."
Additional reporting by Reuters
Comments will be moderated. Keep comments relevant to the article. Remarks containing abusive and obscene language, personal attacks of any kind or promotion will be removed and the user banned. Final decision will be at the discretion of the Taipei Times.