TAIEX recovers following biggest-ever session drop
Taiwan's local stock market yesterday joined in the carnage that sent its regional rivals into a downspin, opening sharply lower and shedding 7.49 percent in just under 90 minutes, the biggest session plunge in the history of the Taiwan Stock Exchange.
The market recovered slightly after the Cabinet said the National Stabilization Fund (國安基金) might be activated to support local shares.
The TAIEX ended down 4.84 percent, or 376.58 points, at 7,410.34.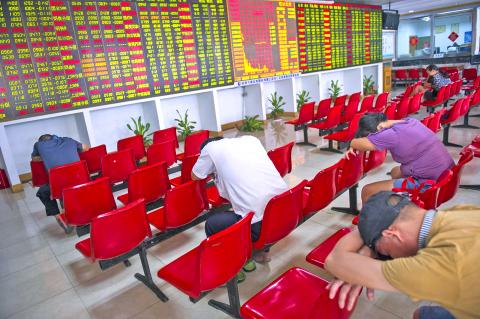 Investors slump in front of a display showing stock prices at a brokerage in Taipei yesterday.
Photo: CNA
Yesterday's plunge came even though the Financial Supervisory Commission on Sunday introduced a ban on short selling after the Dow Jones Industrial Average shed 3.1 percent on Friday on concerns over an economic slowdown in China and the drastic devaluation of the Chinese yuan.
Panic selling pushed up the turnover to NT$144.886 billion (US$4.4 billion), from NT$101.6 billion on Friday, exchange data showed.
The TAIEX is set to drop further if Wall Street fails to hold steady while the sharp fall of Chinese shares persists, analysts said.
"The government's intervention may ease panic selling, but it will not be able to reverse the market trend," David Chu (儲祥生), chairman of state-run Hua Nan Securities Co (華南永昌投顧), said by telephone.
Foreign players fled the market, slashing local shares by a net NT$6.59 billion and depressing the New Taiwan dollar by 0.2 percent, or NT$0.084, to close at NT$32.96 against the greenback in Taipei trading, the central bank said on its Web site.
The NT dollar is very close to the NT$33 mark versus the US counterpart and traders shied away from speculating on the support level.
Mutual funds cut positions in local shares by a net NT$461.81 million and proprietary dealers by a net NT$84.14 million, according to stock exchange tallies.
Small and open to foreign exposure, the local bourse cannot stay above global unease over China's disappointing economic data and wild currency volatility, Hsu said.
"That means the TAIEX may see further downward revisions given the 8.5 percent decline in Shanghai shares today [Monday]," Hsu said.
Taiwan is heavily reliant on China economically, as companies from different sectors have operations in the market, making them vulnerable to its economic slowdown and yuan swings.
It is difficult, if not impossible, to guess how deep the TAIEX may head after plunging below the 10-year moving averaging last week, Masterlink Securities Investment Advisory Corp (元富投顧) president Liu Kun-hsi (劉坤錫) said in a telephone interview.
"Technical analysis tools are useless in times of extreme external shocks," Liu said.
Vice Minister of Finance Wu Tang-chieh (吳當傑), who is in charge of the National Stabilization Fund, said the government would lend a helping hand in due time and state-run financial institutions have been buying local shares.
Comments will be moderated. Keep comments relevant to the article. Remarks containing abusive and obscene language, personal attacks of any kind or promotion will be removed and the user banned. Final decision will be at the discretion of the Taipei Times.