No Double Ten fireworks display: Wang
Legislative Speaker Wang Jin-pyng (王金平) yesterday said the government decided to cancel the annual firework show that is part of the Double Ten National Day because of safety concerns.
Wang also serves as director of the National Day Celebration Organizing Committee.
He told reporters at the Legislative Yuan in Taipei yesterday morning that he had agreed to a suggestion from the Kaohsiung City Government a few weeks ago to call off the fireworks after it could not find a safe location from which to launch the display and voiced concerns about the cost.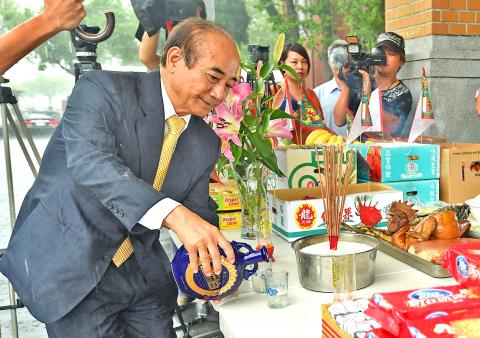 Legislative Speaker Wang Jin-pyng yesterday pours liquor into a cup during a Ghost Month ceremony at the Legislative Yuan in Taipei.
Photo: Liao Chen-huei, Taipei Times
"The city government scouted three potential venues for the annual fireworks show, but after a thorough evaluation, none were able to meet its safety standards. As Kaohsiung was already troubled by insufficient funds, it proposed canceling the event," Wang said.
Asked whether the central government has considered holding the national day festivities in a different city or county, Wang said given the psychological trauma the nation has endured as a result of the Color Play Asia disaster on June 27 at the Formosa Fun Coast (八仙海岸) in New Taipei City, it was best that this year's firework display be called off.
However, the cancelation would not be official until it is put on the record at the committee's second meeting, which is scheduled for Sept. 10, he said.
It will be the first time that a Double Ten National Day is not marked by a fireworks display.
Kaohsiung Mayor Chen Chu (陳菊) had welcomed Wang's announcement on April 28 that her city would host the national day fireworks display for the first time in 15 years, saying she would work with the committee to determine the most ideal location for the show.
Kaohsiung Information Bureau Director-General Ting Yun-kung (丁允恭) yesterday said that the city government decided against the fireworks display for two reasons.
"The city government originally planned to hold the show at the mouth of the Love River, but later abandoned the idea because of the construction work in the area for the Asia's New Bay Area project, which also impeded the search for other suitable venues," Ting said.
The city government also decided that it was not cost effective to spend NT$6 million (US$185,368) on the fireworks, Ting said.
Comments will be moderated. Keep comments relevant to the article. Remarks containing abusive and obscene language, personal attacks of any kind or promotion will be removed and the user banned. Final decision will be at the discretion of the Taipei Times.