Search for missing in Wulai goes on: MND
The military yesterday continued its search for residents of New Taipei City's Wulai District (烏來) who remain unaccounted for after Typhoon Soudelor swept the nation on Saturday, triggering mudslides in the area, the Ministry of National Defense (MND) said.
The Army Airborne Special Forces sent a UH-1H helicopter and 49 personnel to work with a team from New Taipei City to carry out the search, ministry spokesman Major General David Lo (羅紹和) said.
There were still three people unaccounted for in the mountainous scenic area as of 3pm yesterday.
New Taipei City Mayor Eric Chu inspects a collapsed section of road in Sansia District yesterday. Stretches of roads in New Taipei City's Wulai and Sansia districts were affected by the onslaught of Typhoon Soudelor over the weekend.
Photo: CNA
The military will continue to send personnel and vehicles to help local governments across the nation clear roads and remove fallen trees, the ministry said.
As of yesterday, eight deaths, four missing and 420 injured had been reported across the nation.
Total agricultural losses were estimated at NT$2.28 billion (US$71.1 million), the Council of Agriculture said.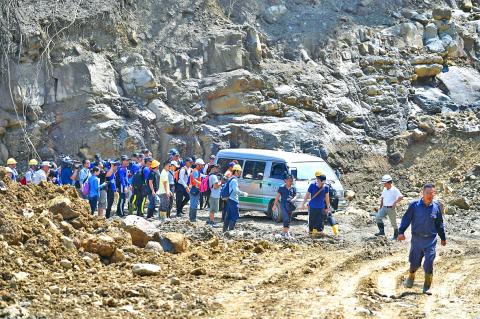 A minivan carrying supplies is escorted by rescue personnel at a damaged road in Wulai, New Taipei City, yesterday.
Photo: Sam Yeh, AFP
Chiayi County suffered the biggest losses, estimated at NT$544.74 million, followed by Yunlin County with NT$319.81 million, Tainan with NT$244.54 million, Kaohsiung with NT$215.47 million and Yilan County with NT$206.69 million, the council said.
Pingtung, Hualien and Changhua counties also reported losses of more than NT$100 million each.
Bananas were the hardest-hit crop, with 4,648 hectares affected for an estimated loss of NT$385.63 million. Bamboo shoots, pomelos, papayas and guavas were also seriously damaged by the storm.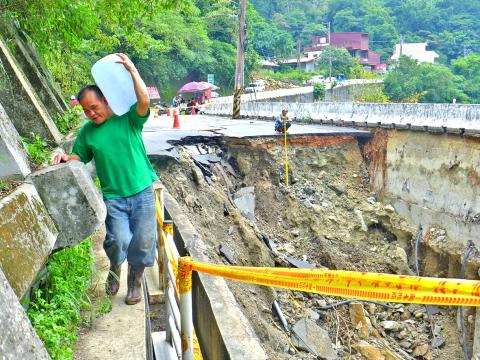 A man carries a plastic container along a collapsed stretch of Rural Highway 114 in New Taipei City yesterday.
Photo: Lee Ya-wen, Taipei Times
The damage to agricultural facilities totaled about NT$412.83 million, most of which was concentrated in Yunlin and Pingtung counties, as well as Kaohsiung, the council said.
It estimated losses for the forestry sector at NT$22.06 million, animal husbandry at NT$14.22 million and fisheries at NT$78.86 million.
Meanwhile, the Ministry of Education reported that 2,006 schools sustained damage, with total damage estimated at NT$434 million.
New Taipei City was the most seriously affected (US$13.5 million), followed by Taichung (NT$62.22 million) and Kaohsiung (NT$54.97 million), education ministry data showed.
Comments will be moderated. Keep comments relevant to the article. Remarks containing abusive and obscene language, personal attacks of any kind or promotion will be removed and the user banned. Final decision will be at the discretion of the Taipei Times.