Deadly typhoon heading for eastern China
Typhoon Soudelor moved toward China yesterday, weaker, but still packing a punch, after leaving a trail of destruction in Taiwan.
In China, at least 250,000 people have been evacuated from the coastal provinces of Fujian and Zhejiang ahead of the typhoon's arrival, which was forecast for yesterday evening.
Already, strong winds and heavy rain have cut off power and destroyed farm crops along China's eastern coast, state media reported.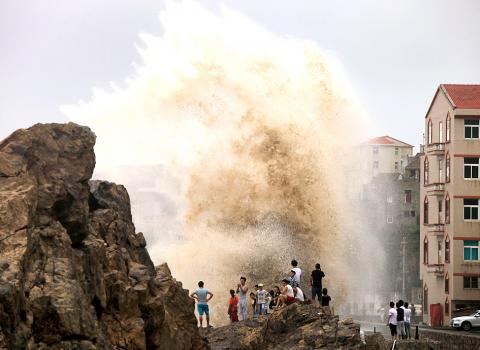 People look at waves as typhoon Soudelor approaches China, in Taizhou, Zhejiang province yesterday.
Photo: Reuters
"The tap water has stopped. The electricity is out. I'm hiding at home and scared to go outside," housewife Pan Danyun, who lives in Fujian's Fuzhou City, told reporters.
The Chinese National Meteorological Center predicted Soudelor would make landfall in Fujian, somewhere in a band roughly between the cities of Fuzhou and Xiamen.
"When it makes landfall in Fujian, it will be significantly weaker, basically the strength of a [regular] typhoon or severe tropical storm," the government agency's chief forecaster Qian Chuanhai (錢傳海) told state television.
Tens of thousands of households had lost power in Quanzhou city, state broadcaster CCTV reported, as it showed images of a devastated cucumber patch.
Billed as the biggest typhoon of the year earlier in the week, Soudelor — named after a legendary Micronesian chief — has since weakened.
However, Chinese authorities are taking no chances. More than 300 trains linked to Fujian have been canceled, while China's three biggest airlines have also scrapped more than 60 domestic flights.
Fujian and Zhejiang provinces had ordered nearly 60,000 fishing boats to return to port, according to local officials.
The typhoon has already dumped more than 200mm of rain in just over 24 hours in some areas along China's eastern coast.
Comments will be moderated. Keep comments relevant to the article. Remarks containing abusive and obscene language, personal attacks of any kind or promotion will be removed and the user banned. Final decision will be at the discretion of the Taipei Times.