Fubon's Tsai brothers top 'Forbes' list
The Tsai brothers of Fubon Financial Holding Co (富邦金控) top the list of the nation's richest people for the first time, according to Forbes Asia magazine.
Following a significant rise of Fubon Financial shares, Daniel Tsai (蔡明忠) and Richard Tsai (蔡明興) have a combined wealth of US$10 billion, according to the magazine's annual rankings published on Wednesday.
The brothers entered the Forbes list in their own right for the first time, replacing their father Tsai Wan-tsai (蔡萬才), who died last year.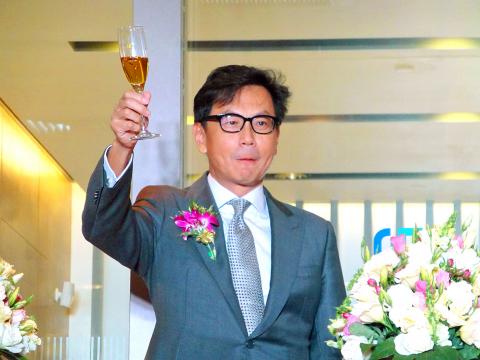 Fubon Financial Holding Co president Daniel Tsai raises his glass at an event commemorating the death of his father and Fubon Group founder Tsai Wan-tsai, on April 10.
Photo: CNA
They unseated Tsai Eng-meng (蔡衍明), head of the food conglomerate Want Want Group (旺旺集團), who had been at the top of the list for the past three years, but fell to second place this year.
Tsai Eng-meng's wealth declined from US$9.6 billion last year to US$8.3 billion this year due to higher operating costs in the dairy product sector and weaker consumer spending, the magazine reported.
The four Wei (魏) bothers, owners of another food giant, Ting Hsin International Group (頂新國際集團), also fell one spot in the listings to third place with combined wealth of US$7.5 billion, a drop of US$1.1 billion from last year.
Tingyi (Cayman Islands) Holding Corp (康師傅控股), a subsidiary of Ting Hsin, recorded a decline in net sales this year for the first time since 1998, due to slower demand in China, the magazine said.
Fourth on the Forbes Asia list of Taiwan's richest tycoons was Terry Gou (郭台銘), chairman of Hon Hai Precision Industry Co (鴻海精密), whose wealth grew by US$650 million this year to US$6.7 billion.
Hon Hai, which assembles iPhones and iPads for Apple Inc, was boosted by strong sales of the iPhone 6, the magazine said.
The Tsai (蔡) brothers of Cathay Financial Holding Co (國泰金控) were listed in fifth place in the Forbes rankings, with total assets of US$5.9 billion. They are cousins of Daniel and Richard Tsai.
Rounding out the top 10 were property developer Hong Tai Group's (宏泰集團) Lin Yu-lin (林堉璘) with assets of US$5.6 billion; Samuel Yin (尹衍樑) of conglomerate Ruentex Group (潤泰集團) with US$4.3 billion; the Chang brothers of semiconductor firm ASE Group (日月光集團) with US$4.2 billion; Lin Rung San (林榮三), property and media tycoon and founder of the Taipei Times and owner of the Liberty Times with US$4.1 billion; and Barry Lam (林百里) of computer maker Quanta Computer Inc (廣達) with US$3.9 billion.
The net worth of the nation's 50 richest people stands at US$117.1 billion, a drop of US$300 million from last year due to slowing demand from China, which has affected Taiwan's exports, the magazine reported.
Comments will be moderated. Keep comments relevant to the article. Remarks containing abusive and obscene language, personal attacks of any kind or promotion will be removed and the user banned. Final decision will be at the discretion of the Taipei Times.