Greece, creditors fail to find deal, deadline looms
Greek Prime Minister Alexis Tsipras and his country's creditors failed to reach a bailout deal at emergency talks yesterday, raising fresh fears that Athens will default on an IMF loan next week.
The differences remain so great despite two days of marathon negotiations that the EU-IMF lenders and Greece will present rival reform proposals to eurozone finance ministers later in Brussels, sources said.
"The Greeks have rather made steps backward. Positions are even further apart rather than narrowing," German Minister of Finance Wolfgang Schaeuble said ahead of a meeting of eurozone finance ministers.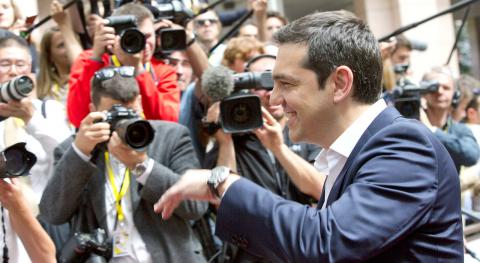 Greek Prime Minister Alexis Tsipras arrives for an EU summit in Brussels on Thursday.
Photo: AP
European Commission President Jean-Claude Juncker said he was "tired to death" after talks with Tsipras and the heads of the European Central Bank (ECB) and IMF late on Wednesday and early yesterday.
The aim was to finalize a deal in time to have it approved by EU leaders meeting at a summit in Brussels last night, ahead of a payment deadline on Tuesday next week for a 1.5 billion euro (US$1.7 billion) IMF loan repayment.
However, they produced no breakthrough in the five-month standoff between the anti-austerity Greek government and the creditors, who have refused to release 7.2 billion euros in bailout funds unless Greece promises new reforms.
"There will be two texts" at the Eurogroup meeting of eurozone finance ministers, a Greek government source said. "It's a sign of the big distance between Greece and its creditors."
European stocks rose on early optimism about a deal, but Asian stocks slid yesterday over fears of the global economic fallout from a possible default by Greece.
The disagreements have centered on spending cuts, VAT and pensions, which Greece says it can ill afford after two punishing EU-IMF bailout programs since 2010 worth 240 billion euros.
Discussions have become increasingly acrimonious as the deadline looms and on Wednesday, Greece withdrew some of its reform proposals, apparently for the first time since negotiations began.
Greek government sources said two were withdrawn from the list under pressure from Tsipras' left-wing SYRIZA party, including an unpopular increase in pensions contributions.
The Greek side is seeking to offset the impact of the changes with other measures, sources said.
Tsipras was elected in January vowing to end five years of bailout austerity in Greece exacerbated by long-term recession and high unemployment.
He took a characteristically tough stance on Wednesday, lashing out at creditors just minutes before meeting with Juncker, IMF managing director Christine Lagarde and ECB President Mario Draghi.
"This strange position maybe hides two things: Either they do not want an agreement or they are serving specific interests in Greece," Tsipras said.
EU President Donald Tusk last week warned of the growing risk of a "chaotic, uncontrollable Grexident" — Greece crashing out of the euro and perhaps also the EU, which it joined in 1981.
The new plans submitted on Sunday by Greece aim at 8 billion euros in savings, mostly through new taxes on the wealthy and businesses, VAT increases and a cut in defense spending.
Comments will be moderated. Keep comments relevant to the article. Remarks containing abusive and obscene language, personal attacks of any kind or promotion will be removed and the user banned. Final decision will be at the discretion of the Taipei Times.